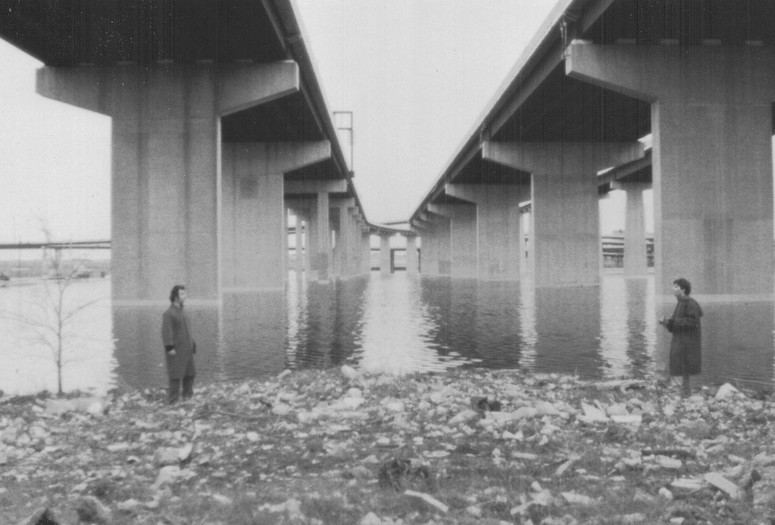 Talking to Strangers. 1988. USA. Written, directed and photographed by Rob Tregenza. With Ken Gruz, Marvin Hunter, Caron Tate, Henry Strozier, Sarah Rush. New 35mm print made from the original negative, supervised by Rob Tregenza. 90 min.
Tregenza's first feature, shot in Baltimore, consists of only nine shots, each an uninterrupted 10-minute take, centered on an enigmatic young man (Ken Gruz) who initiates or experiences a series of seemingly random encounters. "The virtuoso camera movements and stereo sound lead to gradual and unpredictable expositions of physical space; the variety of acting styles creates a feeling of perpetual uncertainty about the registers of reality underlying each sequence. And the philosophical content of certain scenes, e.g., in a soup kitchen and in a confessional, raises additional questions. Alternately comic, disturbing, challenging, and demanding, this is a galvanizing, high-level game for adventurous spectators, and a truly remarkable first feature" (Jonathan Rosenbaum, 1988).
"The cinematic art of Talking to Strangers reminds me of that of Max Ophüls, whose lyrically vertiginous mastery of the track and the crane is also rhapsodic, also bittersweet—but profoundly, scathingly worldly. Tregenza is a sort of counter-Ophüls: a rhapsodist of the unworldly, whose lyricism depicts a young man of another world whose confrontations with the one at hand give his ideals a pummeling without, for a second, dispelling them, and whose ultimate fulfillment arrives in a sort of transcendent visual nothingness, an ideal image that's the repudiation of images. Tregenza is after lyricism without cynicism, bitterness and sweetness without bittersweetness, emotions unmixed and irony-free" (Richard Brody, 2013).