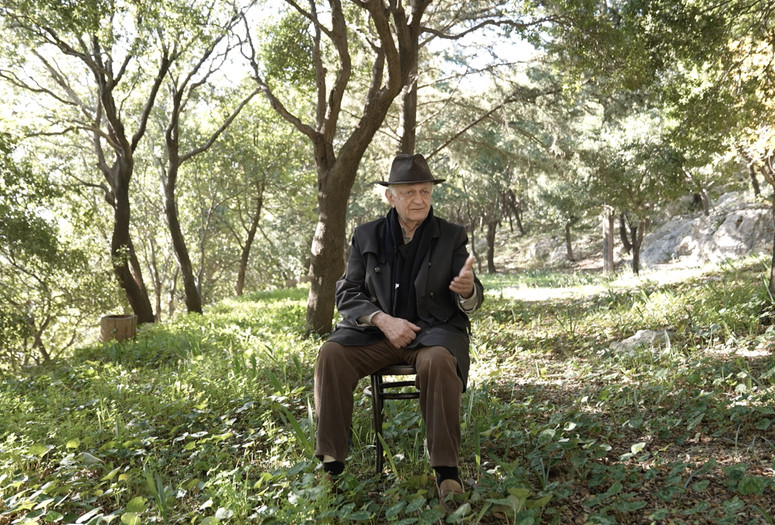 Join Berlin-based artist, filmmaker, and researcher Marwa Arsanios for an evening of shorts spanning three of her major research projects. Arsanios's Who Is Afraid of Ideology? film series probes possibilities for ideology to inform lived practice. Through case studies in Northern Syria, Colombia, and Lebanon, the artist charts an intersectional path of women-led political resistance—guided by strongly held theoretical precepts—aimed at reclaiming rights to the land and reconnecting with nature. Presented in its New York premiere, Who Is Afraid of Ideology? Part 4: Reverse Shot focuses on a collaborative project to shift privately held land in the North of Lebanon to common property. In following these efforts, the film forms connections between a history of non-ownership in the region and tenets of ecofeminism and resistance to state control.
The program also includes two films from Arsanios's earlier research projects. I've Heard Stories is part of the Carlton Hotel Project (2008), a multifaceted investigation into the now-demolished Carlton Hotel in Beirut, Lebanon. I've Heard Stories combines video and drawing into an animated short that speculates on the events surrounding the murder of Lebanese politician and businessman Henri Pharaoun at the hotel in 1993.
Have You Ever Killed a Bear? Or Becoming Jamila, part of the Al-Hilal Project (2011–15), looks into the history and legacy of Al-Hilal, a state-owned Egyptian magazine that was popular throughout the Arab world in left-nationalist circles during the 1950s and 1960s. During the Algerian War, the magazine idealized the revolutionary icon and freedom fighter Djamila Bouhired as a model of Arab womanhood. The film takes her as its subject through voiceover and multidimensional "collage," animating print materials to reconsider Bouhired's role within a broader critique of the patriarchal struggles of liberation.
I've Heard Stories. 2008. 5 min.
Have You Ever Killed a Bear? Or Becoming Jamila. 2014. 26 min.
Who Is Afraid of Ideology? Part 4: Reverse Shot. 2022. 35 min.
After the screening, Marwa Arsanios will be in conversation with Ana Janevski, Curator, Department of Media and Performance.