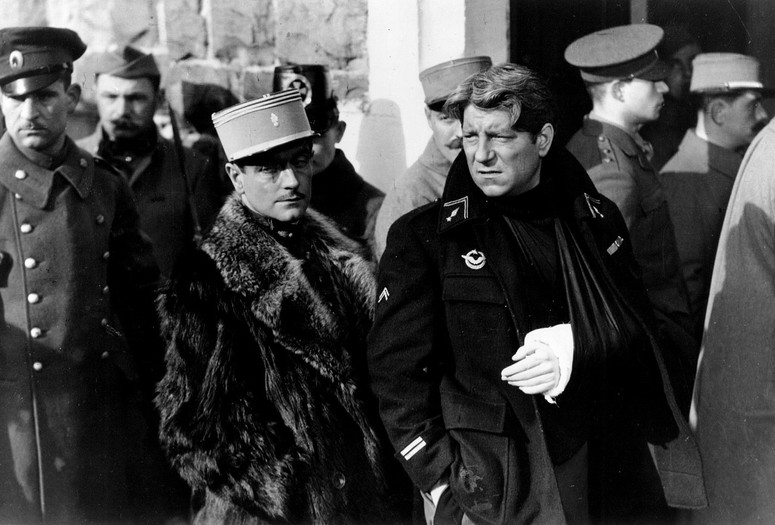 La Grande Illusion. 1937. France. Directed by Jean Renoir. Screenplay by Charles Spaak and Jean Renoir. With Jean Gabin, Pierre Fresnay, Erich von Stroheim, Marcel Dalio, Gaston Modot. 35mm. In French; English subtitles. 114 min.
Renoir's Grand Illusion is his best-known film—and one of his most personal—including reminiscences of his World War I experience in the French Flying Corps and paying homage to an early mentor, Erich von Stroheim, who appears here as the elegantly civilized commandant of a maximum-security German prison camp. The escape of two French officers is presented as an intellectual game that depends upon the cooperation of soldiers of different nations; the act of parting from the other prisoners, indicated by an emotional series of farewells, dominates the film.
"While Grand Illusion may be considered the preeminent antiwar movie, it is far more inclusive and universal than that, posing questions about human existence that offer much food for thought. The film is a passionate statement of Renoir's belief in the commonality of all human beings, regardless of race, class, or nationality, which was to become a pervasive theme in his career. It is that passion, that emotional intensity, that makes Renoir's entire body of work so distinctive. Whether his films are directed at conjugal love, nature, the theater, the Paris that was, or prisoners of war, Renoir makes the viewer complicit in his obsessive devotion to his subjects" (from MoMA Highlights).
Grand Illusion was named Best Foreign Film by both the National Board of Review and the New York Film Critics Circle, and received an Oscar nomination for Best Picture—a first for a foreign-language film. For its 1999 reissue, Rialto struck new 35mm prints for the first time in decades and created the first new translation (by Lenny Borger) since its original release. "If I had only one film to save, it would be *Grand Illusion*" (Orson Welles).