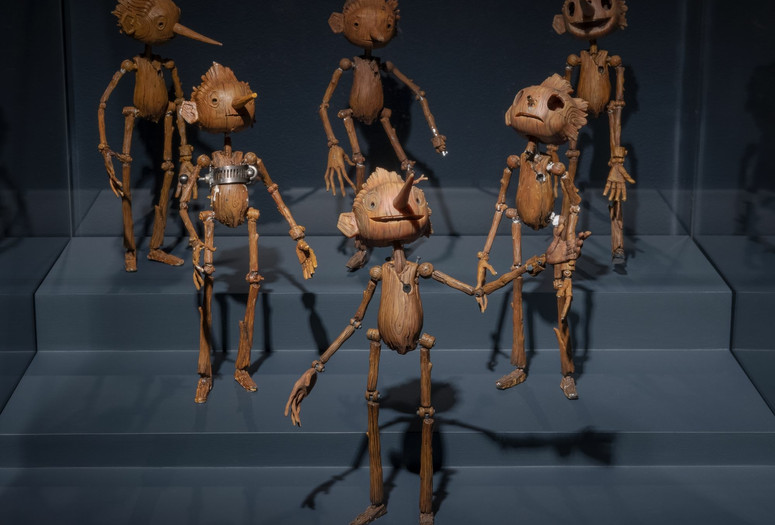 Please join us for The Museum of Modern Art's bimonthly program for individuals who are Deaf or hard of hearing. Each program includes a sign language–interpreted, private gallery talk focusing on one of MoMA's exhibitions, along with a wine and cheese reception.
In March, we will explore the exhibition Guillermo del Toro: Crafting Pinocchio. Guillermo del Toro's Pinocchio is an innovative reinterpretation of Carlo Collodi's 1883 children's novel, now set in Fascist-era Italy. Together we will discuss the craft and process behind the filmmaker's first stop-motion animation film, with staff members from the departments of Film and Conservation.
Interpreting MoMA is offered free of charge. Space is limited and advance registration is required.
For more information or to register, please email [email protected] or call Access Programs at 212-408-6447.
Image description: An exhibition installation photograph of six wooden Pinocchio puppets with various carved facial expressions standing in three rows on a step platform, with a dark blue background. The center puppet has a smile and a long pointed nose, with one arm up gesturing in the air.
Volkswagen of America is proud to be MoMA's lead partner of learning and engagement.

Access and Community Programs are supported by the Stavros Niarchos Foundation (SNF).

Major funding is provided by The Taft Foundation and by the Werner and Elaine Dannheisser Fund for Older Adults at MoMA in honor of Agnes Gund.

Additional support is provided by the Sarah K. de Coizart Article 5th Charitable Trust, the Allene Reuss Memorial Trust, the J.E. and Z.B. Butler Foundation, The Max and Victoria Dreyfus Foundation, Inc., The Elroy and Terry Krumholz Foundation, and the Von Seebeck-Share B. Charitable Trust.