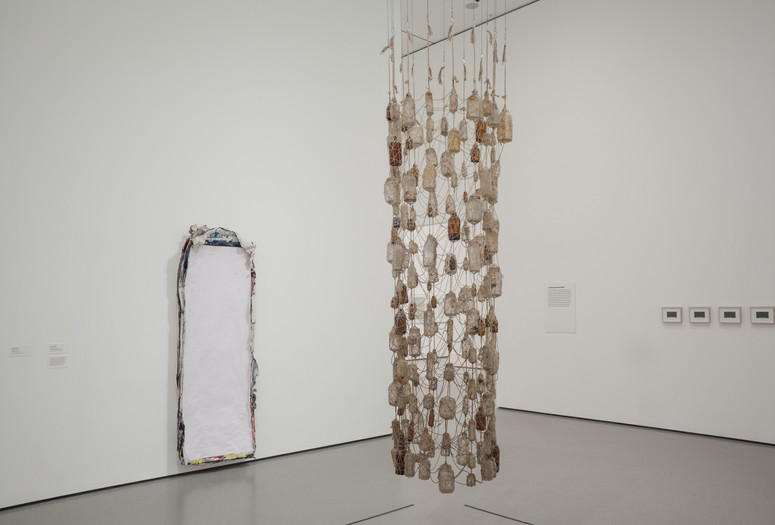 Jehan Roberson leads this Writing Club on the theme of possession, focusing on artworks by Laura Aguilar and Nari Ward on view in the installation History Into Being. This session meets in person at MoMA. If you prefer an online Writing Club, sign up for Writing Club at Home: On Possession with Jehan Roberson, on March 20, 2023.
Experience art through writing. In Writing Club, a guest writer introduces different works of art and offers a series of creative writing prompts. Our intention is to offer a calm, supportive, and welcoming environment for anyone interested in writing in response to art in the company of fellow writing enthusiasts. Writers have the option, but not obligation, to share some of their new work with others. Writing Club is part of the initiative Artful Practices for Well-Being, which offers ideas for connectedness and healing through art.
Facilitator
Jehan Roberson is a queer writer, artist, and memory worker who uses text as the basis for her interdisciplinary arts practice. Born and raised in Memphis, TN, Roberson makes work that explores Black, queer textual practices as sites of liberation, place making, and archival interventions. Her writing has been published or is forthcoming in Criticism, Recess Art, Public Books, Apogee, ZORA, *Women & Performance**, and Autostraddle, among others. She is currently based in Ithaca, New York, where she is a PhD student in the Department of Literatures in English at Cornell University.
Registration
Register for the session on Monday, March 27.
Accessibility


Live CART captioning and American Sign Language (ASL) interpretation is available for public programs upon request with two weeks' advance notice. The writing prompts will be available in English and in Spanish. MoMA will make every effort to provide accommodation for requests made with less than two weeks' notice. Please contact [email protected] to make a request for these accommodations.




Volkswagen of America is proud to be MoMA's lead partner of learning and engagement.

Access and Community Programs are supported by the Stavros Niarchos Foundation (SNF).

Leadership support for Adult and Academic Programs is provided by the Carroll and Milton Petrie Education Program Endowment, and Lewis B. and Dorothy Cullman Education and Research Endowment.

Major funding is provided by the Agnes Gund Education Endowment Fund for Public Programs, The Junior Associates of The Museum of Modern Art Endowment for Educational Programs, and the Jeanne Thayer Young Scholars Fund.

Additional support is provided by Gretchen Jordan.