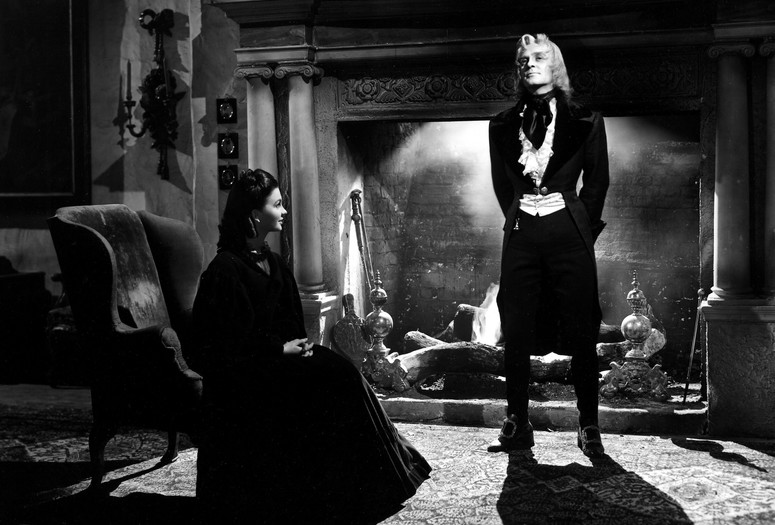 The Tell-Tale Heart. 1953. USA. Directed by Ted Parmelee. With James Mason. DCP. 8 min.
A pitch-perfect adaptation of Edgar Allan Poe's short story, Parmelee's The Tell-Tale Heart is haunting and tactile, thanks to the stunning, angular, chiaroscuro animation. "Technically exquisite and designed to perfection by Paul Julian (a brilliant title and background designer who worked for United Productions of America and Warner Brothers) and narrated with serene threat by James Mason. This cartoon was as big an influence on my style as any feature film" (Guillermo del Toro).
The Inheritance (Uncle Silas). 1946. Great Britain. Directed by Charles Frank. Screenplay by Ben Travers. With Jean Simmons, Katina Paxinou, Derrick De Marney. 35mm. 103 min.
After her father's death, teenage heiress Caroline (Jean Simmons) is sent to live with her uncle Silas (Derrick De Marney), a loathsome and greedy man intent on securing the family fortune for himself. "Based on one of my favorite Gothic novels, Uncle Silas, by the grandmaster of the eerie tale, Sheridan Le Fanu. This is a visual and atmospheric singularity. Rarely exhibited nowadays, I find it to be compelling and full of promise. Along with Dragonwyck, this was a big influence on my own Crimson Peak " (Guillermo del Toro).