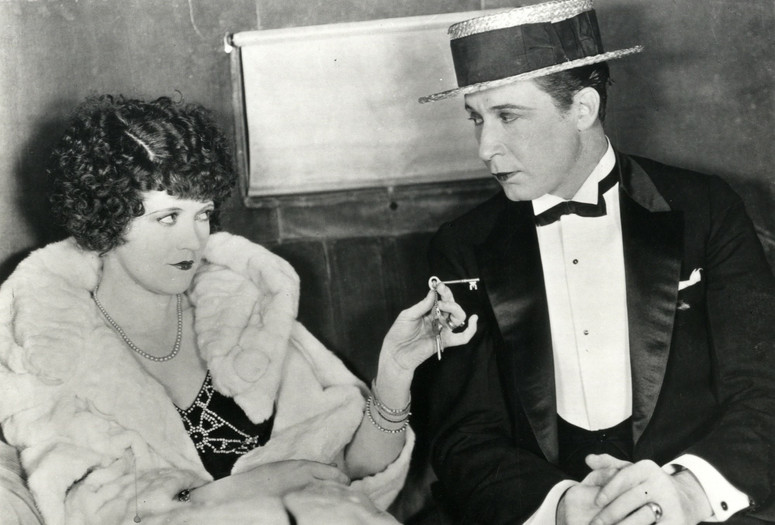 The Adventurer. 1917. USA. Directed by Charles Chaplin. Screenplay by Vincent Bryan, Maverick Terrell, Chaplin. With Chaplin, Edna Purviance, Eric Campbell, Henry Bergman, Albert Austin. Digital restoration by The Museum of Modern Art, with funding provided by The Lillian Gish Fund for Film Preservation. World premiere. Silent. 26 min.
One truism of film restoration is that the best-loved titles are almost always in the worst shape. Negatives wear out from overuse, old prints are duped to create new ones, and image (and sound) quality are lost with every new analog generation. That's long been the case with Charles Chaplin's Mutual shorts, a series of 12 two-reel comedies that Chaplin made in 1916 and 1917. Considered by many to be Chaplin's funniest, most formally accomplished work, the Mutual shorts have nearly been loved to death after over a century in constant circulation.
MoMA's new restoration of The Adventurer, the final and, for many, finest of the Mutuals, comes as a revelation. Assembled from seven different sources, almost all from the domestic A negative, often combining elements within a given shot, the MoMA restoration has a clarity and grain structure missing from the film for generations, and has been fitted with remade intertitles that match samples from original prints of other Mutual films. The film now looks—almost eerily—very much as it did when it first appeared on American screens.
The restoration was supervised by Peter Williamson, MoMA's Film Conservation Manager, and Dave Kehr, Curator, Department of Film, and was carried out at Metropolis Post in New York City. We are especially grateful to Metropolis for their amazing work despite the COVID shutdowns.
The Marriage Circle. 1924. USA. Directed by Ernst Lubitsch. Screenplay by Paul Bern, based on the play by Lothar Schmidt. With Florence Vidor, Monte Blue, Marie Prevost, Creighton Hale, Adolphe Menjou. Digital restoration by The Museum of Modern Art, with funding provided by Matthew and Natalie Bernstein. World premiere. Silent. 85 min.
With Ernst Lubitsch's second American film, The Marriage Circle, the director discovered the genre that he would elevate to the heights of formal perfection and emotional resonance: the sophisticated romantic comedy. Working from a forgotten European play (as he so often did), Lubitsch establishes the parallels between two marriages—one beginning to fray (Viennese physician Monte Blue and his neglected wife Florence Vidor) and one in open rupture (professor Adolphe Menjou has hired a private detective to track his unfaithful wife, Marie Prevost, who has set her sights on Blue). Shifting his focus from the grand social canvases of his German films (Madame DuBarry, Carmen) to a handful of characters in drawing rooms brings out Lubitsch's genius for synecdoche—the art of taking a part to express the whole. When sound came in, Lubitsch (in collaboration with George Cukor) remade The Marriage Circle as the musical One Hour with You in 1931. This new digital restoration of The Marriage Circle is based on a 35mm print in the Museum's collection.