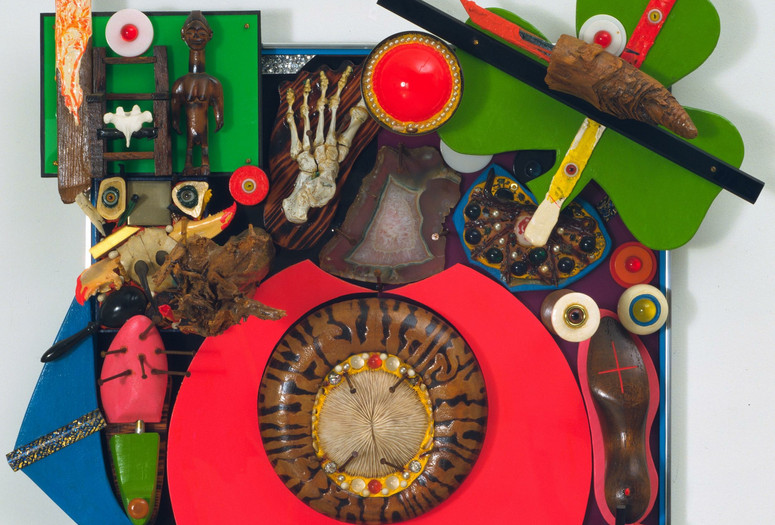 In collaboration with the Asian American Writers' Workshop, this Writing Club at Home welcomes guest writer Kay Ulanday Barrett to facilitate a workshop on wholeness and assemblage. Kay will introduce works of art by Alfonso Ossario and Adrian Piper, share a series of creative writing prompts, and offer the opportunity for writers from around the globe to gather in a calm, supportive, and welcoming environment.
The Asian American Writers' Workshop (AAWW) is a literary arts nonprofit organization devoted to creating, publishing, developing, and disseminating creative writing by Asian American, Asian, and diasporic individuals, and to providing an alternative literary arts space at the intersection of migration, race, and social justice. Since its founding in 1991, AAWW has been dedicated to the belief that Asian American stories deserve to be told. At a time when migrants, women, people of color, Muslims, and LGBTQ people are specifically targeted, the organization offers a countercultural public space in which to imagine a more just future.
Writing Club is part of the Artful Practices for Well-Being initiative, in which we seek to offer a space for connectedness and healing through art.
Facilitator
Named as one of the Transgender and Gender Nonconforming Writers You Should Know by Vogue magazine, Kay Ulanday Barrett is a poet, essayist, cultural strategist, and A+ napper. They are the winner of the 2022 Foundation for Contemporary Arts Cy Twombly Award for Poetry, a 2022 recipient of a Tin House Next Book residency, and a recipient of a 2020 James Baldwin Fellowship Award at MacDowell. Their second book, More Than Organs (2020) received a 2021 Stonewall Honor Book Award by the American Library Association and is a 2021 Lambda Literary Award Finalist. They have featured at the United Nations, Lincoln Center, the Hemispheric Institute, Symphony Space, Brooklyn Museum, Dodge Poetry, the Poetry Foundation, the School of the Arts Institute, Manchester PRIDE, Princeton University, Columbia University, Sesame Street, and more. Their contributions are found in the New York Times, Academy of American Poets, Poetry magazine, Literary Hub, Colorlines, The Advocate, Al Jazeera, NYLON, Vogue, The Rumpus, The Lily, VIDA Review, and elsewhere. Currently, they serve as a co-curator at the Asian American Writer's Workshop. Find them on social media @brownroundboi.
Registration
Register for the session on Monday, December 19, 6:00–7:00 p.m. ET.
Accessibility



American Sign Language (ASL) interpretation and live CART captioning will be available for this event. MoMA will make every effort to provide accommodation for requests made with less than two weeks' notice. Please contact [email protected] to make a request for these accommodations.
Writing prompts will be available in English and Tagalog.




Volkswagen of America is proud to be MoMA's lead partner of learning and engagement.

Access and Community Programs are supported by the Stavros Niarchos Foundation (SNF).

Leadership support for Adult and Academic Programs is provided by the Carroll and Milton Petrie Education Program Endowment, and Lewis B. and Dorothy Cullman Education and Research Endowment.

Major funding is provided by the Agnes Gund Education Endowment Fund for Public Programs, The Junior Associates of The Museum of Modern Art Endowment for Educational Programs, and the Jeanne Thayer Young Scholars Fund.

Additional support is provided by Gretchen Jordan.