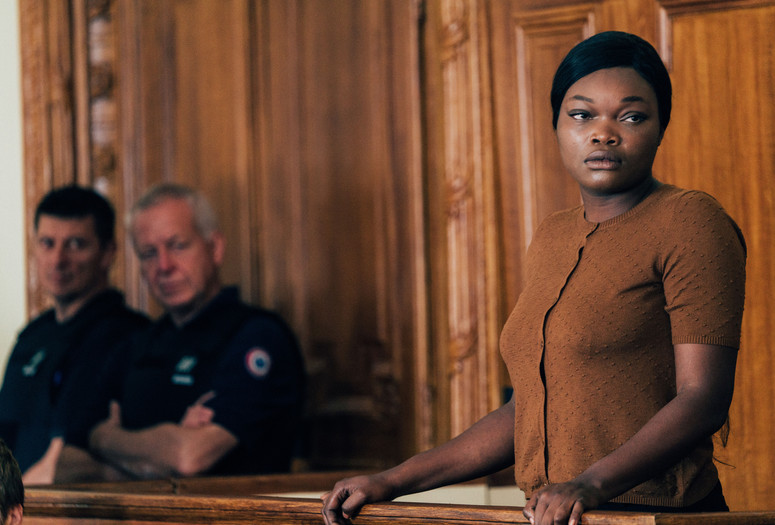 Saint Omer. 2022. France. Directed by Alice Diop. Screenplay by Diop, Amrita David, Marie N'Diaye, Zoé Galeron. With Kayije Kagame, Guslagie Malanda. 122 min.
Motherhood and sacrifice: the two have long been thought inseparable. But what if the sacrifice is of one's own child, whether out of noble vengefulness (Medea), the agony of a worse fate (slavery in Toni Morrison's Beloved), or perhaps for reasons that can never be fathomed. Alice Diop brings the tenderness and acuity of her documentaries We and The Death of Danton to bear on her first fiction feature, in which a young Senegalese woman in the small French town of Saint Omer is put on trial for the murder of her baby daughter. A tense courtroom drama and a work of great psychological complexity, Saint Omer follows a novelist covering the case who finds her assumptions about race, class, culture, and motive torn asunder. The character is loosely based on Marguerite Duras, who in 1985 wrote the notorious essay "Sublime, Necessarily Sublime, Christine V," which wrongly imagined the mother of a murdered boy, four-year-old Gregory Villemin, as the culprit. Courtesy SUPER
For members at the Explore category and above, tickets will become available two weeks before the screening date, starting at 10:30 a.m. Additional tickets will be available to members and the general public one week before the screening date, also at 10:30 a.m. Please note that space is extremely limited and tickets will be in high demand.