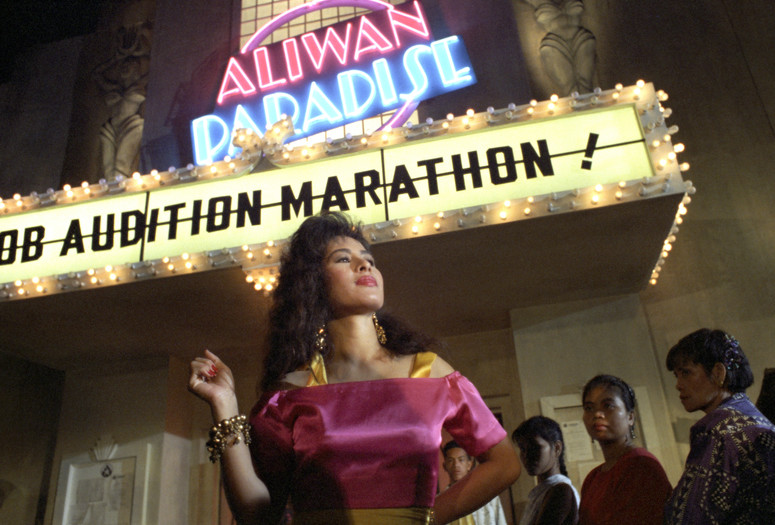 Signos (Omens). 1983. Philippines. Made by Concerned Artists of the Philippines. DCP. In Filipino; English subtitles. 39 min.
On August 21, 1983, Ninoy Aquino, a former Philippine senator and a staunch opponent of President Ferdinand Marcos, was shot in the head on the tarmac of the Manila airport as he returned home from three years of self-imposed exile. In response to his assassination, to a collapsing economy, to acts of vengeance, and the violent suppression of dissent, eight members of a collective known as the Concerned Artists of the Philippines (including Mike De Leon) bravely made this riveting Super 8mm documentary short, drawing on newsreel footage, interviews, and street scenes of anti-Marcos demonstrations.
Aliwan Paradise. 1992. Philippines. Directed by Mike De Leon. Screenplay by Clodualdo del Mundo Jr. With Johnny Delgado, Julio Diaz, Lara Melissa de Leon. DCP. In Filipino; English subtitles. 27 min.
"[Aliwan Paradise] imagines a near-future Manila in which the quest for a radically new form of entertainment to keep the masses satisfied is neverending. Two young provincials bruised by their experiences in the big city—they happen to have the same names as the protagonists of Brocka's Maynila, also scripted by Clodualdo del Mundo Jr.—are reunited at the auditions. Their acts are rejected by the very establishment jury, but the impresario/director who hosts the auditions is titillated by the thought of the poverty and hard labor in their village backgrounds and hires them to re-enact it. Their performance of the hardscrabble life they once fled proves to be just what the media needed. Like Kakabakaba Ka Ba?, which it slightly resembles in style, this dark satire lambasts everything from the fashion for 'poverty porn' to the rampant hypocrisies of Filipino showbiz. It confirms and consolidates De Leon's withdrawal from mainstream Filipino cinema" (Tony Rayns).