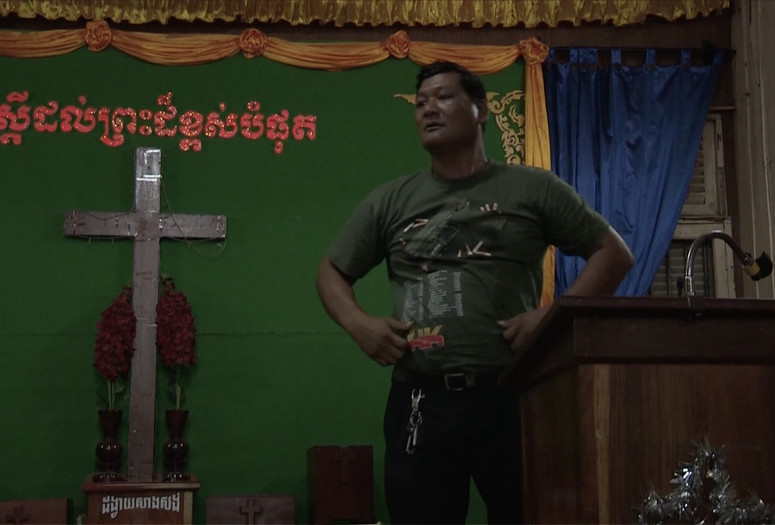 These three films only hint at the extraordinary work of the Bophana Center for Audiovisual Resources, founded in 2006 by Rithy Panh and Ieu Pannakar. Bophana is a unique and precious repository of films, photographs, musical recordings, and archival documents that together bear witness to Cambodia's history, cultures, and people. The Center keeps alive the memory of the millions whose lives were destroyed during the murderous Democratic Kampuchea regime, when Pol Pot sought to erase all forms of personal expression, and provides opportunities for new forms of creativity through a training program for young Cambodians seeking careers in filmmaking, broadcasting, and journalism.
My Daily Food. 2022. Directed by Ren Sarl. DCP. In Jarai; English subtitles. 14 min.
In this wonderful (and mouthwatering) short film, Ren Sarl, a 21-year-old member of Cambodia's indigenous Jarai community, documents the culinary tradition of making tu-kleng, a potato leaf soup that is in danger of being forgotten.
Rarngot. 2020. Cambodia. Directed by Sithort Ret. DCP. In Punong; English subtitles. 12 min.
Young Ngok Thva is a Punong farmer who forages and hunts in the forest to take care of her sick mother, abusive father, and sister.
The Storm Maker. 2014. Cambodia. Directed by Guillaume Suon and Ngoeum Phally. DCP. In Khmer; English subtitles. 96 min.
Now in her twenties, Aya is but one of the hundreds of thousands of young Cambodian women, some as young as eight, who have been sold into slavery and prostitution in neighboring Thailand, Malaysia, and Taiwan. The human trafficker (or "storm maker") who sealed her fate, an unrepentant job recruiter named Pou Hoy, observes on camera, "I target the poorest ones. These people are easy to lure, to convince and recruit."
Program 122 min.