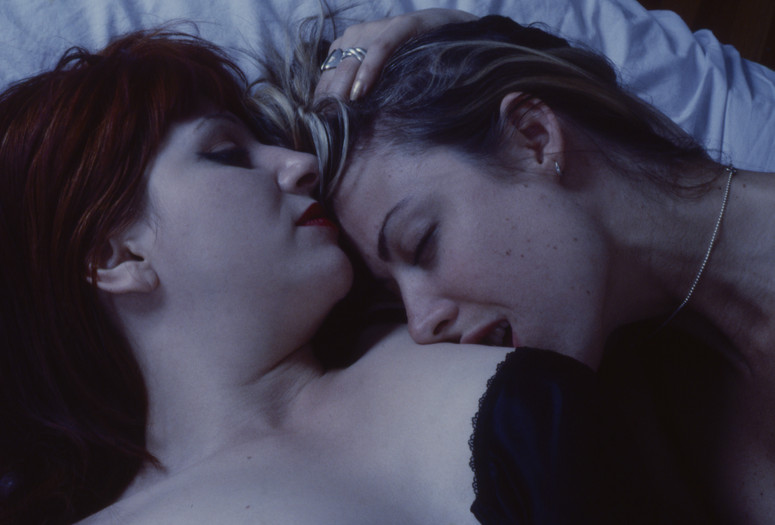 Visiting Desire. 1996. USA. Written and directed by Beth B. With Eric Danville, Lydia Lunch, Lysa Cooper, Ned Ambler, Kembra Phaher, Chloe Dzubilo. In English. 70 min.
Interested in exploring the boundaries of an individual and society itself, Visiting Desire creates an exciting, playful, and amusing psychological experiment in New York City in the mid-1990s. Bringing together a group of total strangers and locking them in a bedroom with cameras for five days, they were encouraged to act out their fantasies and desires. In this twisted version of Big Brother, the diverse group includes a Black man, a white skinhead, a dominatrix, a dancer, a transgender person, and No Wave icon Lydia Lunch.
Voyeur. 2017. US. Written and directed by Beth B. 6 min.
Voyeur features evocative portraits of people having orgasms, lingering on the silent classical face of ecstasy.
The Dominatrix Sleeps Tonight. 1983. US. Directed by Beth B. 3 min.
As a gang of leather-clad, powerful women take over a traditionally male domain, hairspray, skin, and eyeliner are on full display in Beth B's music video for the Arthur Baker–produced New York City club hit from 1984. Deemed to have been too racy for New York Hot Tracks and banned at the time, it was acquired by The Museum of Modern Art.
Hysteria. 2001. US. Written and directed by Beth B. 3 min.
Hysteria is a stark portrait of women and their relationships to their bodies. Oftentimes self-abnegating, the women speak about the ties that bind them to distorted perceptions of self. As a mirror image of our cultural pressures on women, the film challenges accepted views of truth and falsehood, reality and delusion, with an attentiveness to social and psychic history.