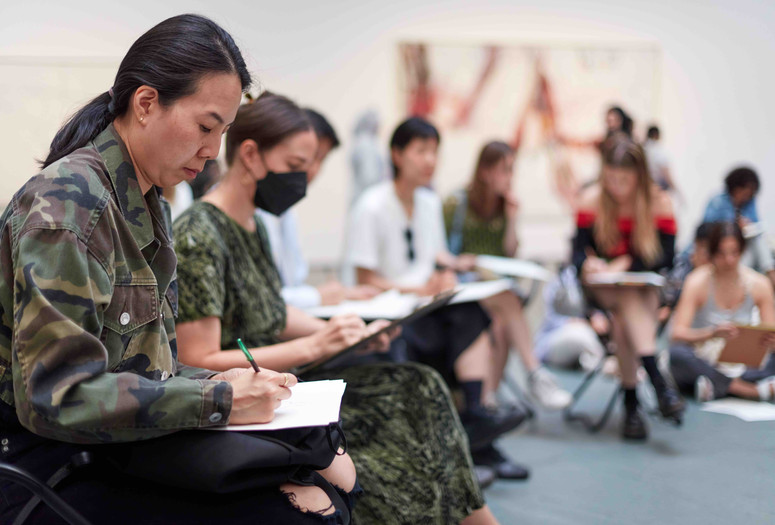 Our October Drop-in Drawing program is facilitated by cartoonist Liz Montague, and takes place in the New Monuments gallery. Meet in gallery 400 on the fourth floor.
Liz Montague is a cartoonist, writer, and illustrator whose work focuses on the intersection of self and social awareness. She began contributing to the New Yorker in 2019, at the age of 22, as a cartoonist. She has also illustrated for the Joe Biden Campaign, the Obama Foundation, Google, Food Network, the US Open, and more. Liz is the creator of the popular Liz at Large cartoon series, which ran in Washington City Paper, and is passionate about documenting social change and social movements. She fundamentally believes in representation, accessible information, and drawing your feelings. Her first book, Maybe an Artist, comes out October 11, 2022. You can keep up with her @lizatlarge.
Explore artworks through drawing in relaxed drop-in sessions for all ages. Materials and seating are provided. Drop-in Drawing is free with admission and open to all, with no experience or ability required. Drop-in Drawing is facilitated by MoMA staff and guest artists and takes place in different galleries each month. For information, contact [email protected].
Volkswagen of America is proud to be MoMA's lead partner of learning and engagement.

Generous support for Adult and Academic Programs is provided by the Agnes Gund Education Endowment Fund for Public Programs, The Junior Associates of The Museum of Modern Art Endowment for Educational Programs, the Jeanne Thayer Young Scholars Fund, and Christina R. Davis. Additional support is provided by the Annual Education Fund.