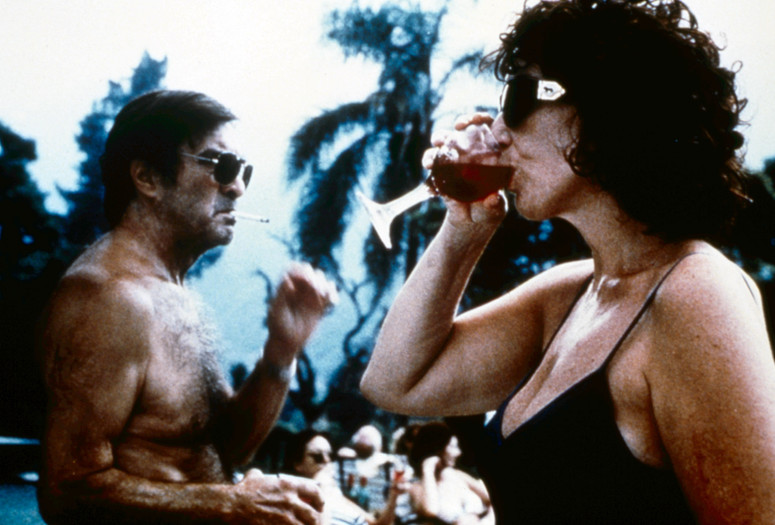 An indelible image from La Cienega is the repeated pouring of a ruby-red libation in close-up. The liquid appears to be coming from a red-wine bottle, but once it fills the glass the color changes to a sickly magenta. It suggests a poison, and indeed something has infected the household. Women and a few men in bathing suits bake in the sun by a muddy pool, or teeter around with their glasses. We see middle-aged skin in glaring close-up, before the camera begins to explore a large, ranch-style home with many supine bodies flopped on beds in daytime, mostly young girls and one young woman; everyone appears to be flattened by a stifling heat, or by boredom or longing. It is primarily a world of women, there are men and boys but they are either hapless and disposable, or nasty and corrupted. The matriarch is not a likeable character either. La Cienega chronicles her domestic relationships, with a particular emphasis on inherent power imbalances. Later on in the film, as tension mounts, rationed ice chips will hit the ever-present crimson beverage, and quickly dissolve.
Wedding Loop was initially made to accompany a suite of photographs for documenta 14. I'd had the idea to bring my family—images of my sisters, my nieces, my son, and his friends—to Athens, and composed a salon portrait wall. At the last minute I second-guessed myself and made Wedding Loop as a way of supplying background to the photographs. It tells the story of a wedding with both happy and distressed souls, and the anxieties and ambivalences around the practice of photographing one's intimates. Currents of addiction and anomie underpin both La Cienega and Wedding Loop; later I understood that Wedding Loop should comprise the final segment of the Les Goddesses Trilogy. –Moyra Davey
Wedding Loop. 2017. USA/India. Directed by Moyra Davey. DCP. 22 min.
La ciénega. 2001. Argentina. Directed by Lucrecia Martel. With Graciela Borges, Mercedes Morán, Sofia Bertolotto, Leonora Balcarce, Diego Baenas. 35mm. In Spanish; English subtitles. 103 min.