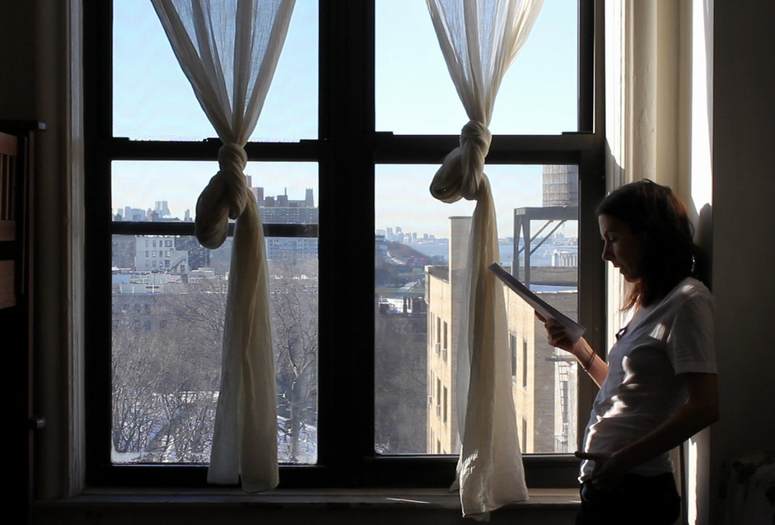 Moyra Davey opens her 2011 film Les Goddesses reciting an introductory summary of the life of 18th-century feminist writer and philosopher Mary Wollstonecraft. But serving as illustrations to this passage are images of vintage photographs Davey took of her sisters and their male friends in their teens. The photos effectively take on the qualities of paper dolls, advancing the narrative of two parallel family histories, both marked by the mucky pleasures of teenage sex, destructive uses of substances, and tragically avoidable death, set 200 years apart.
Les Goddesses was the first time I encountered Moyra Davey's work (at least consciously), and even then I didn't know quite what I was seeing. The film was projected in a darkened room at Murray Guy gallery, and in another room were rows of those exact 1970s photographs seen in the film, each print showing three different frames of teen girls possessing an intimidatingly self-assured, languid sensuality. Without knowing anything about the project, I thought the pictures were of a teen girl group, like the Runaways.
At a certain point in her film, Davey recalls Louis Malle and his seven-part documentary Phantom India (which is also presented as part of this series). She's discussing her favoring the risks and rewards of the vérité approach to photography and film, over the controlled settings of studios and sets—a willingness to face, camera in hand, "the real." This quandary of image making, along with revisiting her family's sororal dynamics, continue to drive a thread through her work to this day. –Nicolas Linnert
Les Goddesses. 2011. USA. Directed by Moyra Davey. DCP. 61 min.