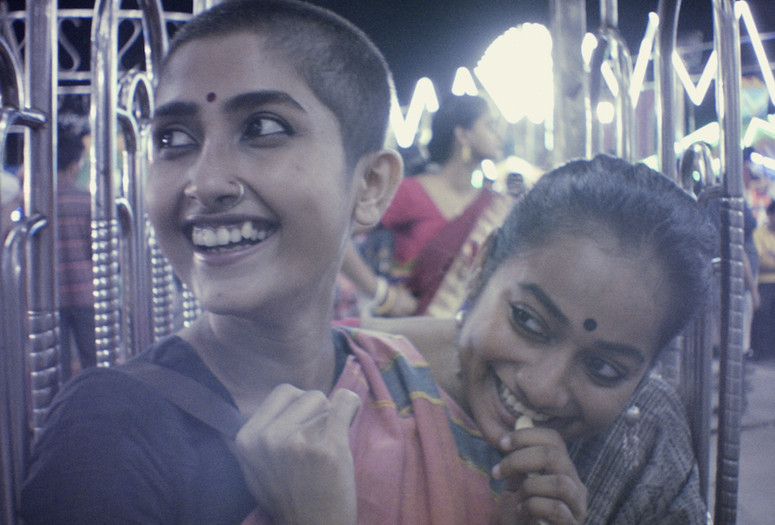 The Coast. 2020. India. Directed by Sohrab Hura. 18 min.
At the end of a festival, people from far and near converge on a beach in Kulasekarapattinam, in Tamil Nadu, to wash off the makeup and body paint they wore to masquerade as mythological figures. Photographer and media artist Sohrab Hura captures this trancelike sensory experience as part of a larger project that reflects on India's social and cultural undercurrents.
Events in a Cloud Chamber. 2016. India. Directed by Ashim Ahluwalia. In English. 21 min.
In 1969, a pioneer of Indian modern painting, Akbar Padamsee (1928–2020), made an experimental film titled Events in a Cloud Chamber, which became lost soon after its premiere. Filmmaker Ashim Ahluwalia collaborated with Padamsee before his passing to remember and reconstruct this little-seen work.
Bat like Devil Chaser with a Top Hat. 2022. India. Directed by Amit Dutta. No dialogue. 26 min.
Culled from over 5,000 photographs by Jyoti Bhatt (b. 1934) from the collection of Bengaluru's Museum of Art and Photography, this short film pays respect to an artist whose body of work is a portrait of the Indian nation and offers a poetic visual and sonic journey across land and time.
Madhu. 2022. India. Tanmay Chowdhary and Tanvi Chowdhary. In Bengali; English subtitles. 13 min.
Two childhood friends reunite at an amusement park. Body language speaks louder than words, and the two young women rekindle their bond in no time. Bengali brother-and-sister filmmaking duo Tanmay and Tanvi Chowdhary capture a precious, intimate moment that is equally fleeting and eternal.
Program 78 min.