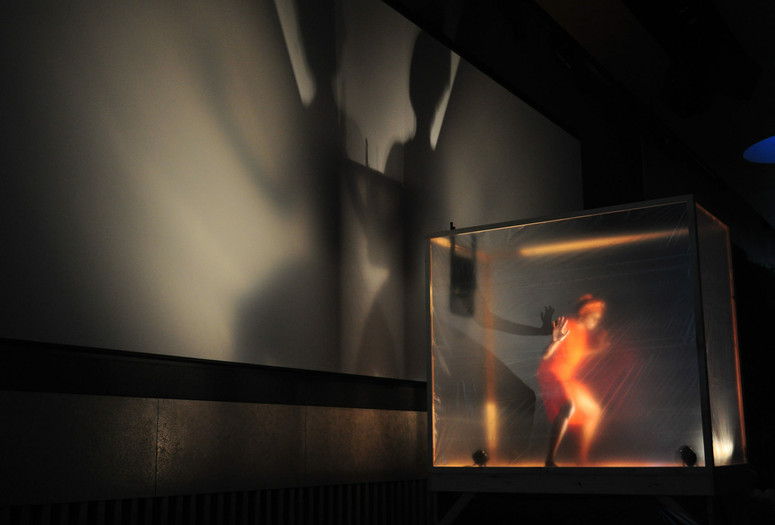 The Brooklyn-based choreographer, performer, and writer Okwui Okpokwasili is the Marie-Josée and Henry Kravis Studio's first artist-in-residence. For the duration of the Studio Residency, the Kravis Studio will become Okpokwasili's working space, a site for incubation, experimentation, and collaboration, and a resource for developing and creating new work behind closed doors. Through three open rehearsals, the audience will have the opportunity to experience the evolution of Okpokwasili's new piece together with her collaborators.
This open rehearsal will be followed by a conversation between Okwui Okpokwasili, and Saidiya Hartman. The conversation portion of the event will be live-streamed here and on MoMA's YouTube channel.
All visitors to this event are required to remain masked. Please note that there will be no late entry. Tickets are free with museum admission, but advance reservation is required.
Directed by Okwui Okpokwasili, Peter Born
Production manager: Michaelangelo DeSerio
Collaborators: Bernice Brooks, mayfield brooks, Brittany Engel-Adams, McKenzie Frye, Audrey Hailes, Will Johnson, NIC Kay, Samita Sinha, Stacy Lynn Smith, AJ Wilmore.
Saidiya Hartman is the author of Scenes of Subjection: Terror, Slavery, and Self-Making in Nineteenth-Century America (1997), Lose Your Mother: A Journey Along the Atlantic Slave Route (2007), and Wayward Lives, Beautiful Experiments (2019), which received the National Book Critics Circle Award for Criticism, the PEN/John Kenneth Galbraith Award for Nonfiction, the Mary Nickliss Prize from the Organization of American Historians, the Judy Grahn Prize for Lesbian Nonfiction, and the John Hope Franklin Prize from the American Studies Association. She received a MacArthur Fellowship in 2019. She is University Professor at Columbia University.
Organized by Ana Janevski, Curator, with Gee Wesley and May Makki, Curatorial Assistants, Department of Media and Performance. Produced by Kate Scherer, Manager and Producer, with Jessie Gold, Aminah Ibrahim, and Kayva Yang, Assistant Performance Coordinators, Performance and Live Programs.




The exhibition is presented as part of The Hyundai Card Performance Series.

Major support is provided by MoMA's Wallis Annenberg Director's Fund for Innovation in Contemporary Art.

Generous funding is provided by the Lonti Ebers Endowment for Performance, The Modern Women's Fund, and the Sarah Arison Endowment Fund for Performance.