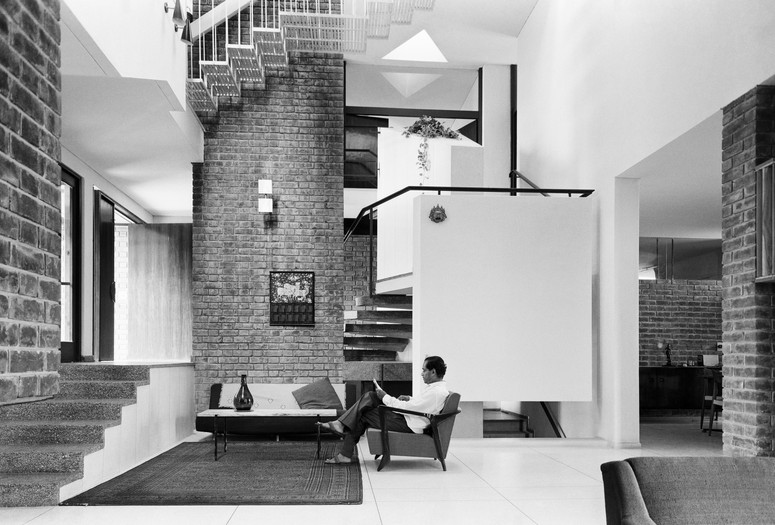 Following the end of British rule in 1947–48, architects in the territories of today's India, Pakistan, Bangladesh, and Sri Lanka embraced the language of modernism as a means of proclaiming their autonomy, articulating their national identities, and enacting social progress. The Project of Independence: Architectures of Decolonization in South Asia, 1947–1985 presents more than 200 works that showcase South Asia's groundbreaking modern architecture, focusing on work conceived and realized by local, rather than international, architects, designers, and planners.
Adding a personal, autobiographical dimension to the exhibition, this event examines South Asia's post-Independence era beyond political histories and as lived memories, probing the meaning, in a subcontinent-wide context, of being "at home in modern architecture." Join Katherine Dunham, Sanjay Kanvinde, Nondita Correa Mehrotra, and Vikramaditya "Vikram" Prakash as they discuss the social context of new nationhood and the professional ambitions of its participating architects. All four panelists share the distinct experience of working in architectural and urban fields as well as being the daughters and sons of architects featured in The Project of Independence.
This program will be moderated by Martino Stierli, Philip Johnson Chief Curator of Architecture and Design.
Katherine Dunham is an urban designer, researcher, and teacher with more than 20 years of experience working in New York and Asia. She has worked in both the public and private sectors on a range of projects, from the installation of landscaped bike lanes in Queens Plaza, New York, to the planning of new urban districts all over China. Dunham is an adjunct associate professor at Columbia University's Graduate School of Architecture, Planning and Preservation, and her courses offer an international perspective on urban planning.
Sanjay Kanvinde continues the legacy of New Delhi–based Kanvinde Rai & Chowdhury, running a practice specializing in campus architecture. He has been teaching at the Urban Design Department in the School of Planning and Architecture, New Delhi, since 1980. Kanvinde is the co-author of Achyut Kanvinde – Ākār, the 2016 monograph on the life and work of architect Achyut Kanvinde, and he is currently collating and digitizing the Kanvinde Rai & Chowdhury archives.
Nondita Correa Mehrotra is principal of RMA Architects, based in Mumbai and Boston. She is also director of the Charles Correa Foundation, based in Panaji, and a member of the Master Jury for the Aga Khan Awards (2017–19). With three decades of experience as an architect, she has been involved in the design of the "Lab of the Future" at Novartis' Basel Campus (RMA Architects), the Ismaili Centre in Toronto, and the Brain and Cognitive Sciences building at the Massachusetts Institute of Technology (Charles Correa Associates).
Vikramaditya "Vikram" Prakash is professor of architecture at the University of Washington, with adjunct appointments in landscape architecture, urban design and planning, and digital media and arts. Prakash works on issues of modernism, postcoloniality, global history, and fashion. His book One Continuous Line: Art, Architecture and Urbanism of Aditya Prakash was published in 2020. He is the co-design lead, with Mark Jarzombek, of the Office of Uncertainty Research, and hosts ArchitectureTalk, a biweekly podcast seeking a way to bring new imaginings to how we live. The Association of Collegiate Schools of Architecture named him as one of its Distinguished Professors in 2021.