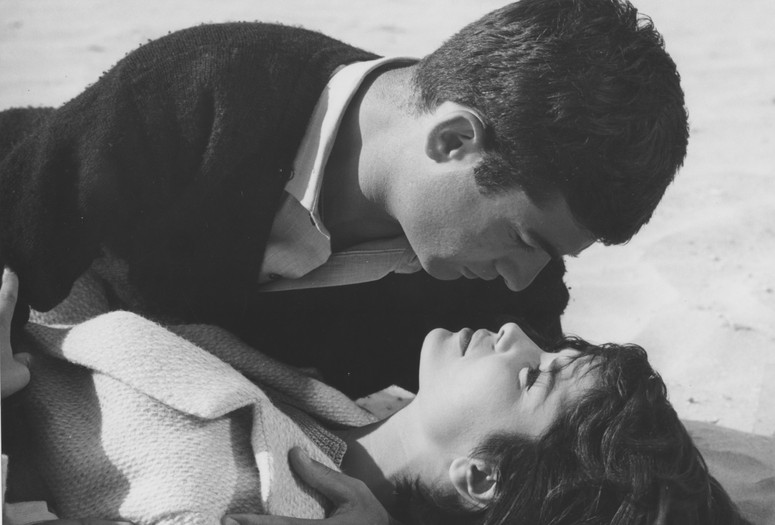 Le Rideau cramoisi (The Crimson Curtain). 1953. France. Written and directed by Alexandre Astruc. With Anouk Aimée, Jean-Claude Pascal, Marguerite Garcya. 35mm. In French; English subtitles. 44 min.
Alexandre Astruc coined the term camera-stylo ("camera-pen"), a form of personal expression quickly embraced by many New Wave filmmakers and writers at the time. In this adaptation of a fantasy by Barbey d'Aurevilly—one of his most memorable collaborations with the great Anouk Aimée—Astruc employs a language of forms, lights, and shadows to rediscover the atmosphere of a love story. Courtesy Tamasa Distribution
Education sentimentale. 1962. France/Italy. Directed by Alexandre Astruc. Screenplay by Roger Nimier, Roland Laundenbach. With Jean-Claude Brialy, Marie-José Nat, Dawn Addams. DCP. In French; English subtitles. 92 min.
When Education sentimentale appeared in French cinemas, a critic at Cahiers du cinéma observed, "The greatness of Astruc is to be a true avant-garde artist, modern but against the tide." Seemingly the adaptation of a famous novel by Gustave Flaubert, the film is far more daring in exploring the possibilities of cinema in evoking passion in a sensory rather than merely metaphorical way. Jean-Claude Brialy, the most coveted actor of the French New Wave (who appeared in 45 films between 1957 and 1963 alone), does indeed play a Frédéric who, as in the novel, attempts with greater and lesser success to seduce several women. But his performance, and Astruc's mise-en-scène more generally, were a rebuke to the tiresomely conventional literary adaptations that were a mainstay of French movie theaters, the so-called "tradition of quality" that François Truffaut so vigorously denounced. Courtesy LCJ Editions