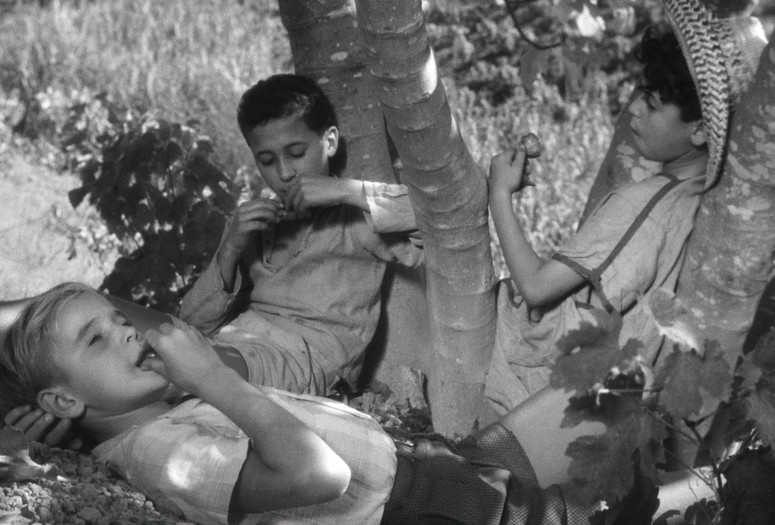 Paris à l'aube (Paris at Dawn). 1957. Netherlands. Directed by James Blue, Johan van der Keuken. DCP. No dialogue. 9 min.
Codirected by the great Dutch documentarian Johan Van der Keuken and the American filmmaker James Blue, both students of the Parisian film school IDHEC, this visual poem is a study in form, movement, and light that displays tremendous freedom and a certain whimsy, evident as well in the jazz-inflected score by Derry Hall, who was also a student at IDHEC. Courtesy EYE Filmmuseum
Les Oliviers de la Justice (The Olive Trees of Justice). 1962. France/Algeria. Directed by James Blue. Screenplay by Jean Pélégri, Sylvain Dhomme, Blue. With Pierre Prothon, Jean Pélégri, Marie Decaître, Said Achaibou. DCP. In French; English subtitles. 81 min.
James Blue's first feature and only fiction film was banned in France for years. Adapted from the largely autobiographical novel by Jean Pélégri, who also stars as one of the film's protagonists (and who also played the policeman in Robert Bresson's Pickpocket), Blue's dramatic film was clandestinely shot on location in Algiers and the surrounding countryside at the height of the Algerian War. Inspired by Italian Neorealism, it is a unique and evocatively photographed document of a violent historical crisis unfolding moment by moment in the most seemingly bucolic of circumstances. Courtesy Kino Lorber