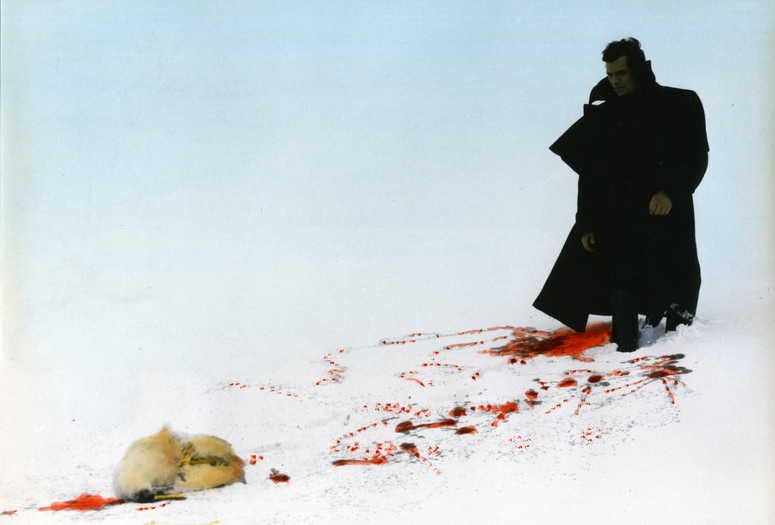 Nuit noire, Calcutta. 1964. France. Directed by Marin Karmitz. Screenplay by Marguerite Duras. With Maurice Garrel, Natasha Parry, Nicole Hiss. 35mm. In French; English subtitles. 24 min.
Haunted by alcohol, loneliness, the difficulty of loving, and what mattered most—writing—Marguerite Duras infused this visual poem with a sense of anxiety and searching. Directed by the future producer, businessman, and art collector Marin Karmitz, Nuit noire, Calcutta is distinguished by Maurice Garrel's performance, at once physical and ghostly, making palpable Duras's disarming tale set along the Ganges in India (though filmed in Normandy). Courtesy MK2
Un roi sans divertissement. 1963. France. Directed by François Leterrier. Screenplay by Jean Giono. With Claude Giraud, Colette Renard, Charles Vanel. 35mm. In French; English subtitles. 85 min.
This second film directed by François Leterrier, best known for his leading role in Robert Bresson's A Man Escaped, is a stylized and intense adaptation of a novel by Jean Giono. A police procedural set in a 19th-century village, Un roi sans divertissement combines visual beauty with a rigorous mise-en-scène, the vertigo of criminal motives indivisible from the graphic quality of the images. Courtesy Gaumont