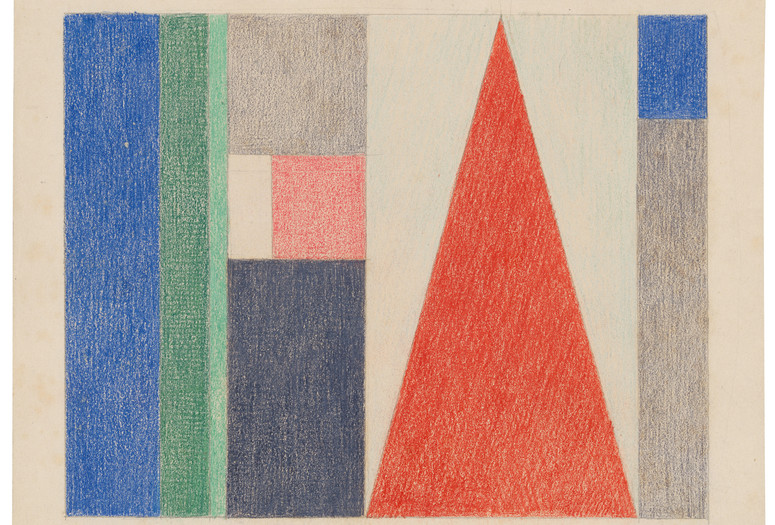 Who was Sophie Taeuber-Arp? And who is she today?
Join us and an extraordinary group of creators and thinkers to explore Sophie Taeuber-Arp's prescient, boundary-busting work. We've asked our special guests to choose objects in the exhibition Sophie Taeuber-Arp: Living Abstraction and reflect on their meaning today.
Session 1
10:00–11:30 a.m.
Moderated by Anne Umland, The Blanchette Hooker Rockefeller Senior Curator of Painting and Sculpture
Amanda Williams is a visual artist based on the south side of Chicago. Trained as an architect, her installations, sculptures, paintings, and works on paper seek to inspire new ways of looking at the familiar and raise questions about the state of urban space and ownership in America. She has exhibited widely, including at The Museum of Modern Art, the Venice Architecture Biennale, MCA Chicago, and the Pulitzer Arts Foundation. Her work is in numerous permanent collections, including those of the Art Institute of Chicago and MoMA.
Sheila Hicks is a visual artist based in Paris and New York. During a Fulbright scholarship in Chile in 1957 and 1958, she developed an interest in working with fibers. Over the course of her career, she has worked in India, Mexico, Morocco, and South Africa, and has exhibited internationally in both solo and group exhibitions. Her work is in the collections of many major institutions, including The Museum of Modern Art.
Jomo Tariku is an artist and industrial designer developing a new language for modern furniture inspired by his African roots. Now based in Virginia, he is also one of the cofounders of the Black Artists + Designers Guild, an organization that advocates for more visibility, representation, and opportunity in the design field, and seeks to mentor the next generation of Black artists, makers, and designers. His gathering of data on the representation of Black designers in the furniture world has also been a topic of discussion the last few years. Tariku's work is currently on view at the Metropolitan Museum of Art, in the installation Before Yesterday We Could Fly: An Afrofuturist Period Room, and his work is in the permanent collection of other major US museums.
Irma Boom is a book maker based in Amsterdam. She has created over 300 books. Her experimental approach often challenges the conventions of traditional books in both physical design and printed content. Since 1992, Boom has been senior critic at Yale University, and she gives lectures and workshops worldwide. She has received many awards for her book designs and, in 2001, was the youngest person ever to receive the Gutenberg Prize. Boom's books are in the collections of The Museum of Modern Art, the Art Institute of Chicago, the Vatican Library, and Centre Pompidou, Paris, among other institutions. The Special Collections of the University of Amsterdam collect her complete oeuvre. In 2014, Boom received the Johannes Vermeer Award, the Dutch state prize for the arts. In 2019, she received an honorary doctorate from the Royal College of Art, London.
Break
11:30–11:50 a.m.
Session 2
11:50 a.m.–1:00 p.m.
Moderated by Leah Dickerman, Director, Research Programs
Rashaun Mitchell + Silas Riener are New York–based dance artists. Their work involves the building of collaborative worlds through improvisational techniques, digital technologies, and material construction. They met as dancers in the Merce Cunningham Dance company and since 2010 they have created over 25 multidisciplinary dance works, including site-responsive installations, concert dances, gallery performances, and dances for film in venues such as the Brooklyn Academy of Music, Barbican Centre, REDCAT, the Walker Art Center, and MoMA PS1. They maintain a commitment to queer culture and aesthetics. Their partnership intentionally blurs authorship and maintains a deep commitment to collaboration with a diverse community of dancers, performers, artists, and cultural institutions.
Pia Camil is a visual artist based in Acatitlán, Mexico. Her paintings, sculptures, performances, and installations emphasize the importance of collectivity and are frequently done in collaboration with local manufacturers. The subject matter of her work focuses on rural/urban contexts, with a formal yet critical dialogue with modernism. She has exhibited internationally, with recent solo presentations at Blum and Poe Gallery, Los Angeles (2021), Three Works, MOCA Tucson (2021), OMR Gallery, Mexico City (2020), the Guggenheim Museum, New York (2019), and the Queens Museum, New York (2019).
Yve-Alain Bois is a professor in the School of Historical Studies at the Institute for Advanced Study. A specialist in 20th-century European and American art, he has curated a number of influential exhibitions, and has taught at Johns Hopkins University (1983–91) and Harvard University, where he was Joseph Pulitzer, Jr., Professor of Modern Art (1991–2005). A co-editor of the journal October, Bois is also a member of the American Academy of Arts and Sciences and the recipient of the Alfred H. Barr, Jr., Award (2001).
This program is organized by The Museum of Modern Art, New York, in collaboration with the Stiftung Arp e.V., Berlin, and is made possible by the Anna Marie and Robert F. Shapiro Seminar and Lecture Endowment Fund, established by Jeanne and Bob Savitt, Kristen and A. Andrew Shapiro, and Robert F. Shapiro, Jr.