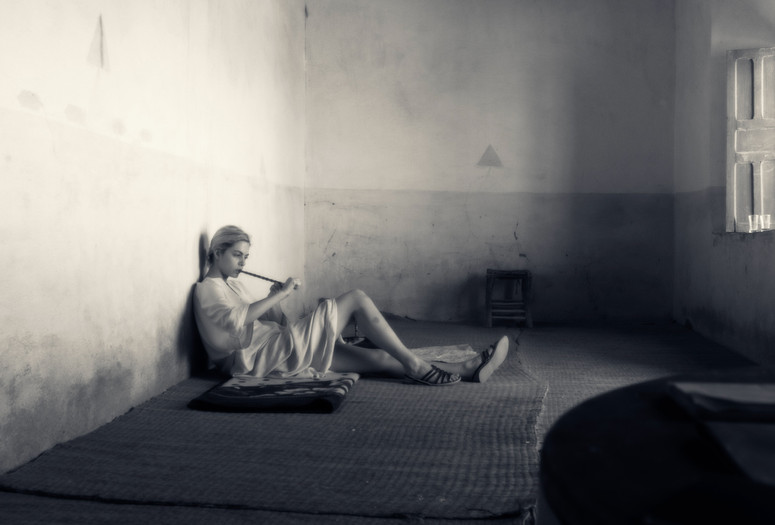 One Morning in 1904. 2021. USA. Written, directed, shot, and edited by Jay Anania. With Hannah Cohen, Ty Anania, Louis Anania, Sara Boutghrida. 82 min.
Born in Maryland and based in New York, Jay Anania is that most independent of filmmakers who, for the past five decades, has written, directed, shot, and edited features and documentaries with the sparest of means but the most expansive of formal ambitions. His work is as exquisitely attuned to the play of light or passage of time on a landscape as it is to an actor's spontaneous gesture or poetic turn of phrase.
For this Modern Mondays evening, Anania presents the world premiere of his latest feature, One Morning in 1904, an experimental biography of the Swiss-Russian writer and adventurer Isabelle Eberhardt (1877–1904), whose irrepressibly Romantic wanderings throughout the Maghreb ended in her sudden death in a flash flood in the Algerian Sahara at age 27—but not before she had lived many lives: that of a Sufi initiate fluent in seven languages, a gender-bending follower of a mystic Islamic sect who took countless lovers, a gun-toting hashish addict, and a suspected spy who survived an assassination attempt during the early Algerian uprisings of Imazighen tribes against French colonialists. One Morning in 1904, which Anania describes as "part essay, part biography, part wonder tale," takes the form of a fragmentary journal both imagined and real, narrated in voiceover by Anania himself while the luminous newcomer Hannah Cohen embodies Eberhardt in nearly every shot. The film's roots lie as much in Anania's own peripatetic career as a documentarian for PBS in the 1980s and '90s, filming with a Super-8 camera across the globe from Gaza and Sudan to Malaysia and Guadalcanal, as it does in his remarkable work over the years with actors like James Franco, Andrea di Stefano, Winona Ryder, Martin Donovan, Julian Sands, and a then-unknown Julianne Nicholson.