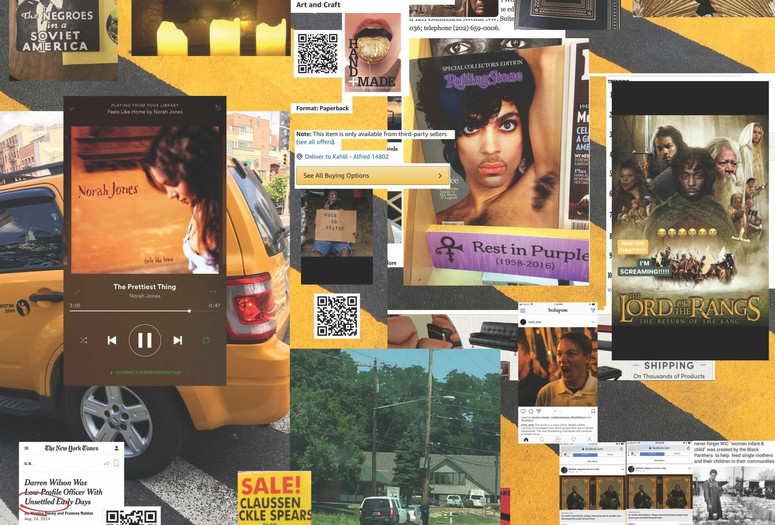 Join educator CJ Mitchell and writer Adjua Gargi Nzinga Greaves for a workshop inspired by Kahlil Robert Irving's ceramic sculptures and digital collages, on view in the exhibition Projects: Kahlil Robert Irving. Through close looking, discussion, collage making, and reflective writing prompts, participants are encouraged to slow down their viewing process and consider the details that comprise a whole work of art.
Participants and facilitators will work together to examine and engage with the exhibition to generate ideas that will be translated into 2D, 3D, and/or written forms of expression. Participants will receive a suggested list of materials in advance of the workshop so they can make their own collages during the session. No prior art-making experience is necessary.
This program is free, open to all, and takes place on Zoom. Register today.
Slow Motion, Slow Build, Slow Read is presented in collaboration with the Studio Museum in Harlem.
Facilitator Bios
CJ Mitchell is the community access manager in the Learning and Engagement Department at the Contemporary Art Museum St. Louis. Mitchell has over sixteen years of experience working as a public school teacher in the fields of special education and art in major urban cities such as London, New York City, Chicago, and St. Louis. She has extensive experience in the area of social services with community organizations, and she holds a master's degree in art therapy. Throughout her career, with her art background, she has engaged with a commitment to schools, youth, and educational collectives.
Adjua Gargi Nzinga Greaves writes ethnobotanical literary criticism and collages detritus into heraldic devices. Her work has been published, anthologized, exhibited, and reviewed by About Place Journal, The Recluse, Belladonna*, Kore Press, Pinsapo Journal, The Brooklyn Rail, Ugly Duckling Presse, Artists Space, Hyperallergic, and 4 Columns. Formerly a Monday Night Reading Series curator at the Poetry Project, site director for Wendy's Subway, and an artist-in-residence at Rauschenberg Residency, Greaves is currently based in Providence, Rhode Island where she is Young Mother of The Florxal Review and a candidate for the MFA in Poetry from the Literary Arts Program at Brown University.
Accessibility


This program will have American Sign Language (ASL) interpretation and live CART captioning. For accessibility questions or accommodation requests please email [email protected] or call (212) 708-9781.
Volkswagen of America is proud to be MoMA's lead partner of education.

Generous support for Adult and Academic Programs is provided by the Agnes Gund Education Endowment Fund for Public Programs, The Junior Associates of The Museum of Modern Art Endowment for Educational Programs, and the Jeanne Thayer Young Scholars Fund. Additional support is provided by the Annual Education Fund.