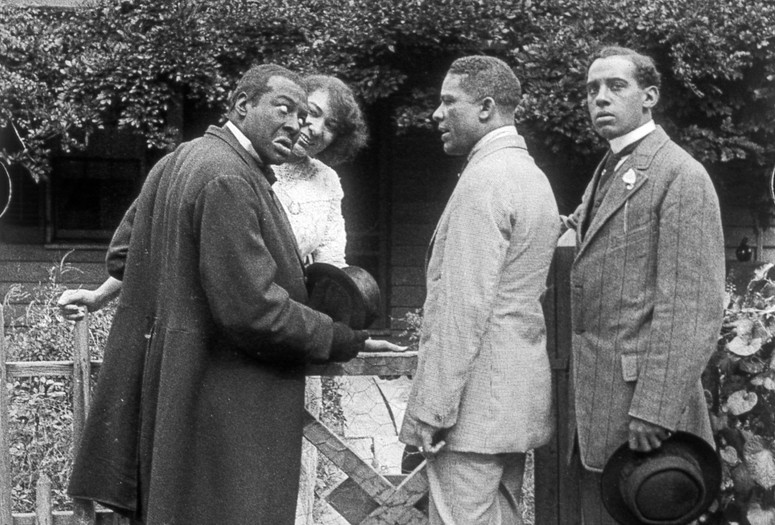 [Bert Williams Lime Kiln Club Field Day]. 1913. USA. Silent
Produced by Biograph Co. for Klaw and Erlanger. Directors Edwin Middleton, T. Hunter Hayes, Sam Corker Jr. With Bert Williams, Odessa Warren Grey, Walker Thompson, and members of J. Leubrie Hill's Darktown Follies Company.
Bert Williams: 100 Years in Post-Production. 1913. USA
At a challenging time of segregation in the fall of 1913, a virtuoso cast of African American performers led by famed Caribbean American entertainer Bert Williams (1874–1922) gathered in the Bronx to make a feature-length motion picture. After more than an hour of film was shot, the unreleased project was abandoned by its white producers and left forgotten until today. Found in MoMA's Biograph Studio collection, the seven reels of untitled and unassembled footage represent the earliest known surviving feature with a cast of black actors. Shot at locations in New York and New Jersey, the comedy centers on Williams's efforts to win the hand of the local beauty, and boasts among its highlights a two-minute exhibition dance sequence and a cutting-edge display of onscreen affection between its black leads. Additionally, nearly 100 remarkable still images of the interracial production were recovered from within the unedited material, providing evidence of an historic effort by a little-known Harlem theatrical community to gain access to the developing medium of moving pictures.