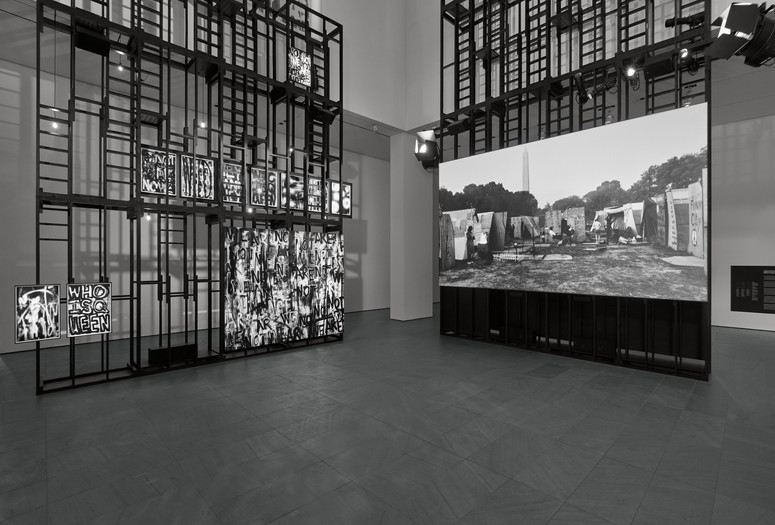 Celebrate the closing of Adam Pendleton: Who Is Queen? with a musical performance by Hahn Rowe and a roundtable conversation with Adam Pendleton, Jack Halberstam, and Julie Mehretu, moderated by Stuart Comer, MoMA's Lonti Ebers Chief Curator of Media and Performance. Join us in person at MoMA or via live-stream here and on MoMA's YouTube channel.
Jack Halberstam is professor of gender studies and English at Columbia University. Halberstam is the author of seven books, including Skin Shows: Gothic Horror and the Technology of Monsters (1995), Female Masculinity (1998), In a Queer Time and Place (2005), The Queer Art of Failure (2011), Gaga Feminism: Sex, Gender, and the End of Normal (2012), and a short book titled Trans*: A Quick and Quirky Account of Gender Variance (2018). Halberstam's latest book is Wild Things: The Disorder of Desire (2020). Places Journal awarded Halberstam its Arcus/Places Prize in 2018 for innovative public scholarship on the relationship between gender, sexuality, and the built environment. Halberstam is now finishing a second volume on wildness titled The Wild Beyond: Music, Architecture and Anarchy.
Adam Pendleton is a New York–based artist. In his paintings, drawings, and other works, Pendleton uses letters, words, drips, splatters, sprays, and collected images as primary materials. His work is a kind of continuous writing, in which language and gestural marks are recorded, transposed, and overwritten. Blurring the edges between modes of viewing and reading, between representation and abstraction, and between painting, drawing, and photography, Pendleton's work is a visual philosophy of incomplete postulates. In 2008, he began to articulate his work through the idea of Black Dada, a visual project and ever-evolving inquiry into the relationships between Blackness, abstraction, and the avant-garde.
Julie Mehretu is a world-renowned painter who lives and works in New York City. In exploring palimpsests of history, from geological time to a modern-day phenomenology of the social, Julie Mehretu's works engage us in a dynamic visual articulation of contemporary experience, a depiction of social behavior, and the psychogeography of space. She is the recipient of The MacArthur Award (2005) and the US Department of State Medal of Arts Award (2015). Mehretu's work has been exhibited extensively in museums and biennials and is represented in collections worldwide. A mid-career survey of Mehretu's work is currently on view at the The Walker Museum of Art, Minneapolis through March 6, 2022. Mehretu is a member of the American Academy of Arts and Letters, the American Academy of Arts and Sciences and The National Academy of Design. Her global representative is Marian Goodman Gallery.
Composer, producer, and multi-instrumentalist Hahn Rowe makes and performs music for stage, film, and visual art. He was a founding member of the dream pop band Hugo Largo (releasing two albums on Brian Eno's Opal label) and has worked with, among others, David Byrne, Anohni, International Contemporary Ensemble, R.E.M., and Yoko Ono. A three-time New York Dance and Performance Award (Bessie) recipient, he has had his music presented at the Venice Biennale, Brooklyn Academy of Music, Lincoln Center, Museum of Contemporary Art Chicago, Biennale of Sydney, and the Deutsche Oper Berlin.
Organized by Stuart Comer, The Lonti Ebers Chief Curator, and Gee Wesley, Curatorial Assistant, Department of Media and Performance. Produced by Lizzie Gorfaine, Producer, and Kate Scherer, Manager, with Ginny Benson, Assistant Performance Coordinator, and Olivia Rousey, Production Assistant, Performance and Live Programs.