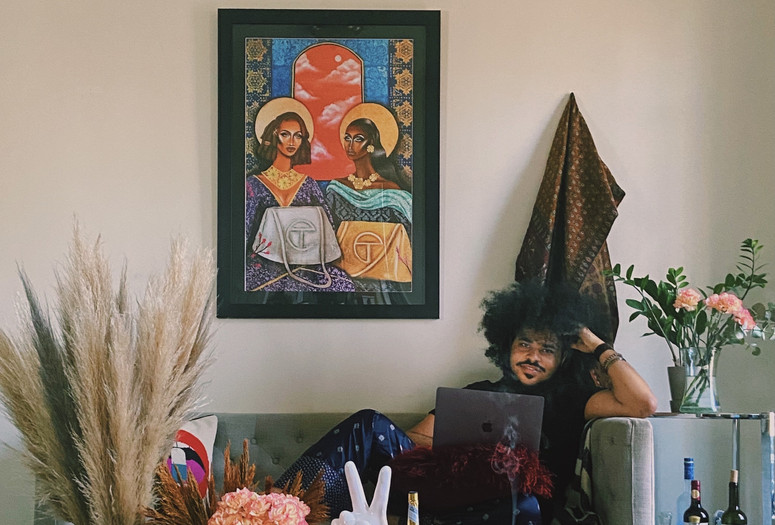 Open Art Space is a series of programs for LGBTQ+ high school students who are interested in thinking about and making art in a creative and welcoming environment.
For this session, participants will learn about the zodiac and explore their birth charts—an astronomical snapshot of the stars based on the date, time, and place of participant's birth—with artist and astrologer Larry Easley. Participants will set intentions and meditate on the new year through various art-making and writing prompts inspired by their horoscopes.
Larry Easley (b. 1993, Nashville, Tennessee) is a queer astrologer and artist based in New York City. A graduate of both Howard University (BFA Design, 2015) and Parsons School of Design (MA Fashion Studies, 2017), his work exists at the intersections of writing, image making, spirituality, and pop culture.
No previous art-making experience is necessary.
Metrocards, snacks, and supplies will be provided. This program is free, but registration is required. Space is limited.
Open Art Space meets at the Cullman Education and Research Building, located at 4 W 54th St, New York, NY 10019.
Register now. For more information, please contact [email protected].
All visitors (ages 5+) to The Museum of Modern Art and its Stores must show proof of COVID-19 vaccination authorized by the United States Food and Drug Administration or by the World Health Organization. See here for more details on MoMA's policies.
Volkswagen of America is proud to be MoMA's lead partner of education.

Teen Programs are made possible by the Lewis B. and Dorothy Cullman Education and Research Endowment and by the Carroll and Milton Petrie Education Program Endowment. Additional support is provided by the Annual Education Fund.