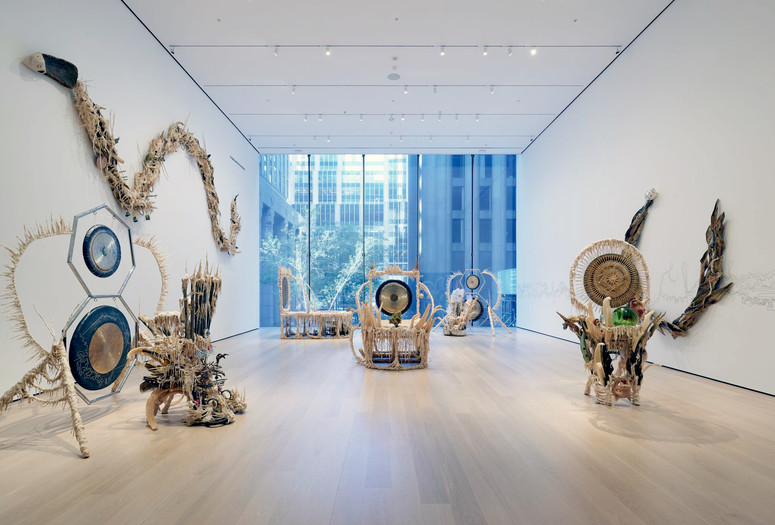 In this 90-minute workshop, explore a sound-based artwork by Guadalupe Maravilla in the installation Luz y fuerza. This session will be facilitated by artist Jeannette Rodríguez Píneda, along with MoMA Education staff. Our intention is to offer a welcoming, calm space for individuals to experience and respond to art together. Slow Looking is part of the initiative Artful Practices for Well-Being, which offers ideas for connectedness and healing through art. This Slow Looking session will be offered twice, once online via Zoom, on March 23, and once at the Museum in the installation Luz y fuerza on March 24.
Jeannette Rodríguez Píneda is a visual storyteller and education designer residing between la isla of Kiskeya/Ayiti y Lenape Matinecock land. Using antiquarian plant-based image-making as a means of remembering soils called home, their work explores the tension of memory and permanence. They have an intergenerational teaching practice rooted in creativity as ancestral practice.
Guadalupe Maravilla is a transdisciplinary visual artist, choreographer, and healer. At the age of eight, Maravilla was part of the first wave of unaccompanied, undocumented children to arrive at the United States border in the 1980s as a result of the Salvadoran Civil War. In 2016, Maravilla became a US citizen and adopted the name Guadalupe Maravilla in solidarity with his undocumented father, who uses Maravilla as his last name. As an acknowledgement of his own migratory past, Maravilla grounds his practice in the historical and contemporary contexts of immigrant culture, particularly those belonging to Latinx communities.
Registration
Register now for the virtual session via Zoom on Monday, March 23, 8:00–9:30 a.m.
The March 23 session will be led virtually through Zoom, a free video-conferencing software platform. Participants should have access to a computer, smart phone, or tablet with a camera and an Internet connection. Participants may also dial in using a phone line. Please bring several sheets of paper and a writing utensil.
The event on March 24 is now sold out. Please email [email protected] to be added to the waitlist.
The March 24 session will meet at the museum. For everyone's health and safety, COVID-19 vaccination (age 5+) and masks (age 2+) are required for all visitors. See here for more details on MoMA's policies.
Accessibility


Live CART captioning will be available. American Sign Language (ASL) interpretation is available for public programs upon request with two weeks' advance notice. MoMA will make every effort to provide accommodation for requests made with less than two weeks' notice. Please contact [email protected] to make a request for these accommodations.




Volkswagen of America is proud to be MoMA's lead partner of education.

Generous support for Adult and Academic Programs is provided by the Agnes Gund Education Endowment Fund for Public Programs, The Junior Associates of The Museum of Modern Art Endowment for Educational Programs, and the Jeanne Thayer Young Scholars Fund. Additional support is provided by the Annual Education Fund.