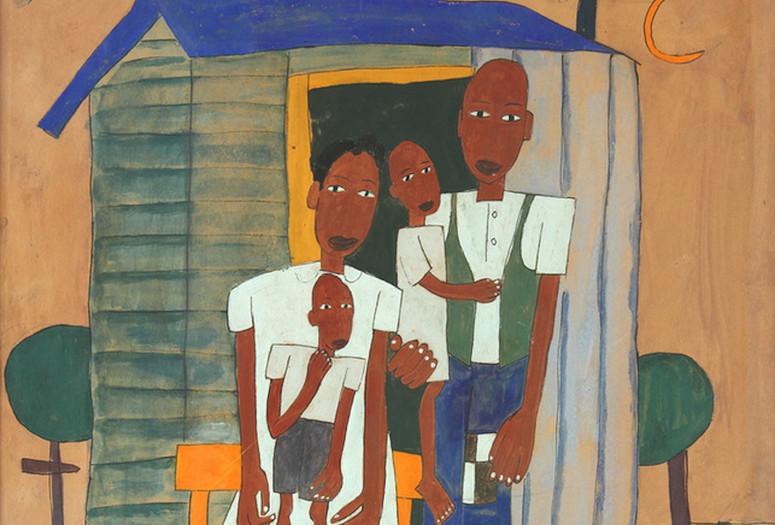 Meet up and write together at the museum or online. Each month, a guest writer will introduce different works of art and offer a series of creative writing prompts. Our intention is to offer a calm, supportive, and welcoming environment for anyone interested in writing in response to art in the company of fellow writing enthusiasts. At the end of each gathering, writers will have the option, but not obligation, to share some of their new work with others. Writing Club is part of the initiative Artful Practices for Well-Being, which offers ideas for connectedness and healing through art.
February Writing Club, led by Anaïs Duplan, explores figuration, focusing on artworks by William H. Johnson, Jacob Lawrence, and Emma Amos. This month, both sessions will occur online via Zoom. The same 60-minute workshop will be offered on February 8 and February 14.
Anaïs Duplan is a trans* poet, curator, and artist. He is the author of the newly released book I NEED MUSIC (2021), the essay collection Blackspace: On the Poetics of an Afrofuture (2020), the poetry collection Take This Stallion (2016), and the chapbook Mount Carmel and the Blood of Parnassus (2017). He has taught poetry at the New School, Bennington College, Columbia University, and Sarah Lawrence College, among others. As an independent curator, he has facilitated curatorial projects in Chicago, Boston, Santa Fe, and Reykjavík. He was a 2017–19 joint Public Programs fellow at The Museum of Modern Art and the Studio Museum in Harlem, and in 2021 he received a Marian Goodman fellowship from Independent Curators International for his research on Black experimental documentary. In 2016 he founded the Center for Afrofuturist Studies, an artist residency program for artists of color, based at Iowa City's artist-run organization Public Space One.
Registration
Register for the session on Tuesday, February 8.
Register for the session on Monday, February 14.
In February, Writing Club will happen via Zoom. Participants should have access to a computer, smart phone, or tablet with a camera and an Internet connection. Participants may also dial in using a phone line. We will be writing, so log in with your favorite writing materials.
Learn more about the March Writing Club and the April Writing Club.
Accessibility


Live CART captioning will be available. American Sign Language (ASL) interpretation is available for public programs upon request with two weeks' advance notice. MoMA will make every effort to provide accommodation for requests made with less than two weeks' notice. Please contact [email protected] to make a request for these accommodations.




Volkswagen of America is proud to be MoMA's lead partner of education.

Generous support for Adult and Academic Programs is provided by the Agnes Gund Education Endowment Fund for Public Programs, The Junior Associates of The Museum of Modern Art Endowment for Educational Programs, and the Jeanne Thayer Young Scholars Fund. Additional support is provided by the Annual Education Fund.