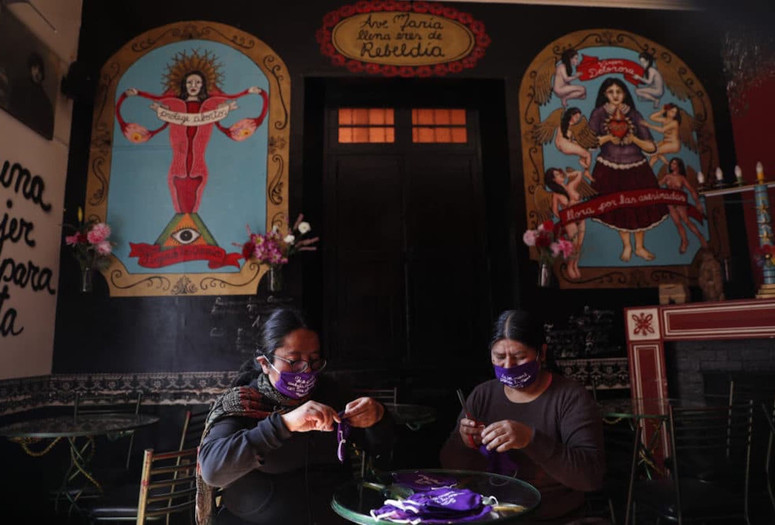 In 2021, the Cisneros Institute awarded Brazilian independent curator Catarina Duncan the Curatorial Research Fellowship, dedicated to support curatorial research in Latin America. With this fellowship, Duncan has developed the Territorial Re-Connections project, a study that proposed a series of dialogues between the work of three women-run collectives that work in connection with land-rights movements in Latin America: colectivo amasijo (Mexico), Mujeres Creando (Bolivia), and Grupo Nzinga (Brazil).
How Can We Generate New Utopias from the South? is the second of three online conversations focusing on the work and practices of these collectives.
Julieta Ojeda and Danitza Luna, members of Mujeres Creando, will be in dialogue with Catarina Duncan about the history of the collective, the creation of Virgen de los Deseos house, and perspectives on art, feminism, mutual support, and transformation. Their discussion will highlight the importance of developing an artistic language in their constant struggle against patriarchal, colonial, and capitalist dimensions of our society. The artists will address this everyday work, including strategies to advance from a stage of reaction to a self-assertive practice.
Mujeres Creando is an autonomous, self-managed anarcha-feminist movement founded in 1992 in La Paz, Bolivia. It is a movement independent from political parties, NGOs, churches, or any other institution. It is integrated by women from different cultural and social origins. One of the collective's graffiti reads, "Indias, putas y lesbianas juntas revueltas y hermanadas" (Indigenous, whores, and lesbians together in revolt and in sisterhood). This affirmation constitutes the main political subject from whence Mujeres Creando is born and organized. Creativity becomes an instrument for activism—visible in various political, aesthetic, and creative manifestations—and for their own production of feminist thought and discourse. Mujeres Creando coordinates two houses where they create and manage a series of initiatives for women in Bolivia, an independent radio channel, and a free service for judicial assistance for women who suffer from patriarchal violence.
Speakers
Danitza Luna is a cartoonist and graphic designer. She graduated in visual arts at the Universidad Mayor de San Andrés, with a specialization in sculpture. Since 2011, she has been a member of the anarcha-feminist political movement Mujeres Creando. She is author of the second sculptural version of the figurine La Ekeka, developed by Mujeres Creando; author and administrator for the Talleres de Gráfica Feminista; and co-author of El Milagroso altar blasfemo (The Miraculous Blasphemous Altar), with Esther Argollo and Maria Galindo.
Julieta Ojeda, member of Mujeres Creando, feminist, anarchist, and anti-licentiate, has been part of a committed and active struggle for the decriminalization of abortion in Bolivia for more than two decades. She is the cohost and producer of the radio program Ni el útero abierto, ni la boca cerrada (Neither open uterus, nor closed mouth).
Catarina Duncan's curatorial work focuses on cultural practices and territorial identities in Latin America. She is currently curator at Solar dos Abacaxis in Rio de Janeiro, Brazil. Duncan was part of the curatorial team of the 32nd Bienal de São Paulo, INCERTEZA VIVA (2015–16); the 36th Panorama of Brazilian Art, SERTÃO (2019); Pivô Arte e Pesquisa (2014–15); and the exhibition Terra Communal Marina Abramović in Sesc Pompéia (2015). She was curator of the public programming of the work Cura Bra Cura Té, by Ernesto Neto, at Pinacoteca (2019) and of the Plataforma Crítica Oficina Brennand (2020). Duncan represented the Third Paradise project by Michelangelo Pistoletto in Latin America (2019–21) and the COINCIDÊNCIA program of the Swiss foundation Pro Helvetia (2017–20).
The program will be held in English and Spanish, with simultaneous translation.
En 2021, el Instituto Cisneros otorgó la Beca de Investigación Curatorial —destinada a fomentar la investigación curatorial en América Latina— a la comisaria independiente brasileña Catarina Duncan. En el marco de la beca, Duncan desarrolló el proyecto Territorial Re-connections (Re-conexiones territoriales), una investigación que proponía una serie de diálogos entre las obras de tres colectivos de mujeres que trabajan con los movimientos por el derecho a la tierra en América Latina: Colectivo Amasijo (México), Mujeres Creando (Bolivia) y Grupo Nzinga (Brasil).
¿Cómo generar nuevas utopías desde el Sur? es la segunda de tres conversaciones online que abordarán la obra y las prácticas de estos colectivos.
Julieta Ojeda y Danitza Luna, miembros de Mujeres Creando, conversarán con Catarina Duncan sobre la historia del colectivo, la fundación de la casa Virgen de los Deseos y sus perspectivas sobre arte, feminismo, apoyo mutuo y transformación. El diálogo destacará la importancia de desarrollar un lenguaje artístico en su constante lucha contra las condiciones patriarcales, coloniales y capitalistas de nuestra sociedad. Las artistas profundizarán en este esfuerzo cotidiano, que implica el desarrollo de estrategias para pasar de una etapa de reacción a una práctica autoafirmativa.
Mujeres Creando es un movimiento anarco-feminista autónomo, autogestionado, fundado en La Paz (Bolivia) en 1992. Se trata de un movimiento independiente de cualquier partido político, ONG, iglesia u otro tipo de institución. Está integrado por mujeres de distintos orígenes culturales y sociales. En una de las pintadas del colectivo se puede leer: "Indias, putas y lesbianas; juntas revueltas y hermanadas". Esta afirmación constituye el sujeto político principal a partir del cual ha surgido y se ha organizado el movimiento Mujeres Creando. La creatividad se transforma así en un instrumento del activismo, y se puede ver en las diversas manifestaciones políticas, estéticas y creativas, así como en su propia elaboración de un pensamiento y discurso feminista. Mujeres Creando coordina las actividades de dos casas en las que se crean y gestionan una serie de iniciativas destinadas a las mujeres en Bolivia, un canal de radio independiente y un servicio gratuito de asistencia judicial a mujeres que sufren violencia patriarcal.
Participantes
Danitza Luna es dibujante y diseñadora gráfica. Es licenciada en Artes Visuales por la Universidad Mayor de San Andrés, con una especialización en escultura. Forma parte del movimiento político anarco-feminista Mujeres Creando desde 2011. Es autora de la segunda versión escultórica de la estatuilla "La Ekeka", desarrollada por Mujeres Creando; artífice y responsable de los Talleres de Gráfica Feminista y coautora, junto a Esther Argollo y María Galindo, del Milagroso Altar Blasphemo.
Julieta Ojeda forma parte del colectivo Mujeres Creando. Es feminista, anarquista y anti-licenciada, y desde hace más de dos décadas participa en la lucha activa y comprometida por la despenalización del aborto en Bolivia. Es co-presentadora y productora del programa de radio "Ni el útero abierto, ni la boca cerrada".
Catarina Duncan ha centrado su labor curatorial en las prácticas culturales y en las identidades territoriales en América Latina. Actualmente es comisaria del Solar dos Abacaxis en Río de Janeiro. Participó en el equipo curatorial de la 32ª Bienal de São Paulo, "INCERTEZA VIVA" (2015-2016), del 36º Panorama de Arte Brasileño: SERTÃO (2019), de "Pivô Arte e Pesquisa" (2014-2015) y de la exposición "Terra Comunal Marina Abramovic" en Sesc Pompéia, São Paulo (2015). Fue comisaria de la programación pública de la obra "Cura Bra Cura Té" de Ernesto Neto en la Pinacoteca de São Paulo (2019) y de la "Plataforma Crítica Oficina Brennand" (2020). Fue representante del proyecto "Third Paradise" de Michelangelo Pistoletto en América Latina (2019-2021) y del programa COINCIDÊNCIA de la fundación suiza Pro Helvetia (2017-2020).
La actividad se llevará a cabo en inglés y en español, con traducción simultánea.