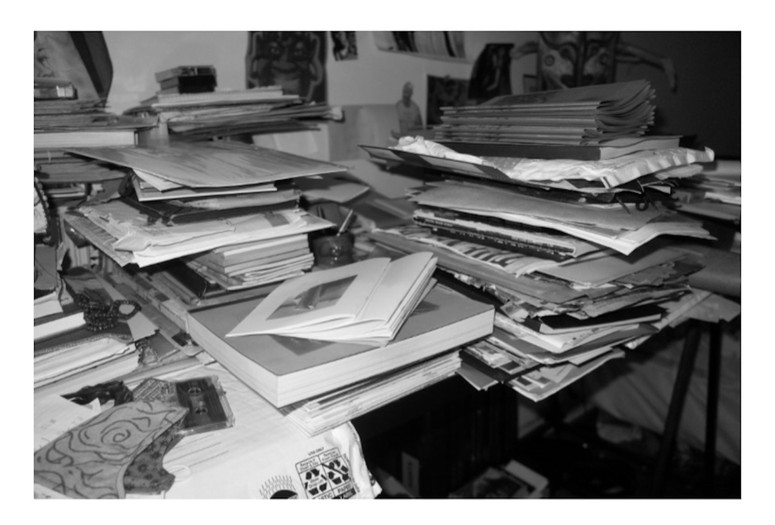 The New York-based collective BlackMass Publishing organizes a series of four monthly public events in conjunction with Greater New York. The programs are developed out of their research and collaborative publishing practice, which combines new and archival content by Black artists and cultural producers, often taking an improvisational approach. This series of events offer a view into the collective's cross-disciplinary practice of publishing and community building.
For their final program, BlackMass Publishing founder Yusuf Hassan will be on-site in the BlackMass Study Hall, on view as part of their participation in Greater New York. Available for conversation and discussion, Hassan will talk through and make available materials central to BlackMass's work in producing publications and reconsidering archives. New York-based artist Ari Marcopoulos will join Hassan in dialogue within the space from 3 – 4 p.m.
Past Events:
Care (2021)
Jan 29, 2022
For the first program of this series, BlackMass presented the US premiere of Care (2021), the debut feature film by Klein adapted from her 2018 musical of the same name, which ICA London commissioned. Care is written, directed, edited, and scored by Klein, and she also plays the lead character, Abike, who experiences friendship and distress between foster homes while navigating the social care system in England with her sister Lola. The film is at once a fragmented autobiography, a sound collage, a fantasy musical, and an intimate diary entry that includes field recordings, mobile phone footage, memes, screenshots, and painterly animations by artist Evie O'Connor.
mantra of things as they are sometimes (2022)
Feb 19, 2022
For the second program in the series, BlackMass invited the composer and artist Allan Gilbert Balon (b.1986, Guadeloupe) to create a site-specific installation, mantra of things as they are sometimes (2022), on view for one afternoon only. Central to Balon's work is the relationship between the body, sound, and space. The installation features moving image, sculpture, and performance and takes inspiration from Han Dynasty bas-reliefs. The work is a tribute to sacrificial rites in the transition process between life and death as well as an investigation into the "language of things." Balon collaborated with the documentary filmmaker Zou Yang to create the film and sound elements.
Afrikan Poetry Theatre (2022)
March 5, 2022
For the third program in the series, BlackMass invited the Afrikan Poetry Theatre to host a program focused on their storied and inspirational history as a center and generator for art, music, education, and community located in Jamaica, Queens. Founded by John Watusi Branch and Yusef Waliyaya in 1976 as part of the Black Arts Movement, the Theatre moved into their current space in 1979, where they are currently undergoing renovations. Bringing together figures from the Afrikan Poetry Theatre's origins to its present day, the program included a mix of discussion, poetry readings, and musical presentations. Participants included Saiku Branch, Fanike African Dance Troupe, Mike G. Williams, Clint Muhammad Mendoza, Messiah Ramkinsoon, Brother Essence, Roszella, Kazembe Rogers, and Sonia Diaz.
Following their presentation, the Afrikan Poetry Theatre housed an intimate hands-on workshop bringing together the principles of poetry and painting. The workshop was led by Kevin "Element" Livingston and Crystal Ife Shekhem. Each participant created their own haiku and was led through a process of merging their poem into a visual artwork as an interdisciplinary exercise. All supplies were provided.