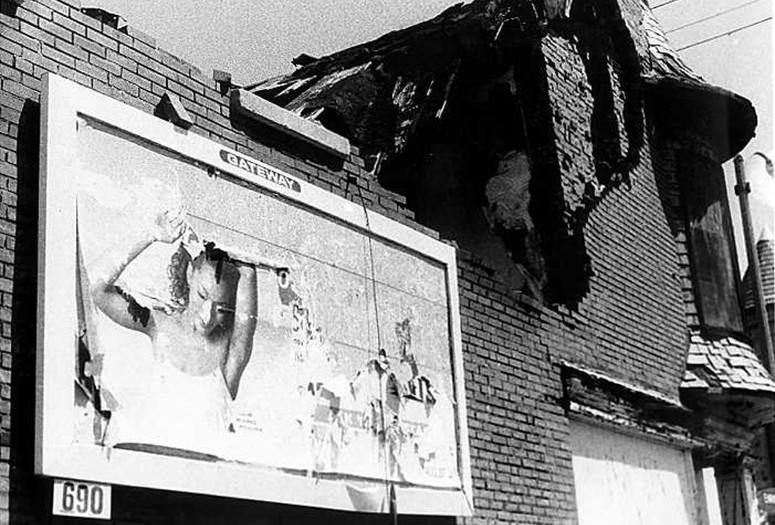 In this special joint Modern Mondays/To Save and Project screening, Christopher Harris presents the world premiere of his 2000 film still/here in a new digital restoration by the Academy Film Archive, together with his own newly conceived selection of work by filmmakers and artists who have inspired him. The screening is followed by an onstage conversation between Harris and Mabel O. Wilson, a cultural historian, architectural designer, and curator who teaches architecture and Black studies at Columbia University, where she also serves as the director of the Institute for Research in African American Studies.
Born in St. Louis and based in Iowa, Harris has, for more than two decades, explored the Black experience in America—its history and culture, both documented and erased—in a series of sensuous, thoughtful, and provocative films and moving-image installations. Restlessly innovative, Harris has built upon various traditions of experimental cinema, including the manual and photochemical manipulation of appropriated moving images, staged reenactments, and an interrogation of the politics of image-making itself through a constant questioning of accepted fact and received wisdom.
In still/here, his MFA thesis film from the School of Art Institute of Chicago, Harris reflects on the slow, inexorable decay of a once tight-knit African American neighborhood on the north side of St. Louis through government indifference, neglect, and corruption; White suburban flight; the collapse of manufacturing; and the chronic systemic racism of redlining, redistricting, and perverted currents of sociological thought and urban planning. His polyphonic voice of spoken words, dreams retold, and the sounds of telephones and doorbells is not so much elegiac as searching, in the way that, as he describes, Miles Davis or Roscoe Mitchell find meaning and infinite variation in musical notes and in the silences and spaces between them, or what he calls "a post-industrial city symphony in a minor key." His black-and-white images, shot with a 16mm Bolex camera, capture a ghostly palimpsest of working-class Victorian homes long since abandoned, and once successful African American businesses, including the Criterion movie palace, now shuttered and in ruins. A vibrant cosmopolitan culture, a life of bustling commerce, domestic comforts and hardships, of movies and music and food made by Blacks and for Blacks, once thrived behind these broken windows and crumbling walls.
Harris's work has shown internationally at festivals and in museums, from Locarno, Edinburgh, and the VIENNALE to the Whitney, the Art Institute of Chicago, the Wexner Center for the Arts, and the National Museum of African American History and Culture. Harris is also the recipient of many prestigious awards and residencies, including a Creative Capital Award and fellowships from Radcliffe, Chrysalis, and Alpert/MacDowell. Special thanks to Mark Toscano and Haden Guest.
Remembrance: A Portrait Study. 1967. USA. Edward Owens. Digital preservation courtesy Film-Makers' Cooperative. 6 min.
Dufus (aka Art). 1970/73. USA. Mike Henderson. 16mm restoration by the Academy Film Archive. 6 min.
Masked Incident. 1979. Toney W. Merritt. Digital preservation courtesy Canyon Cinema. 6 min.
Black Plus x. 1966. USA. Aldo Tambellini. 16mm restoration from Harvard Film Archive. 9 min.
"Non-cognitive Aspects of the City" 1966–67. USA. Music and spoken word by Joseph Jarman, from the album song for. Sound recording. 14 min.
still/here. 2000/01, USA. Christopher Harris. Digital restoration by the Academy Film Archive. 60 min.
Program approx. 100 min.