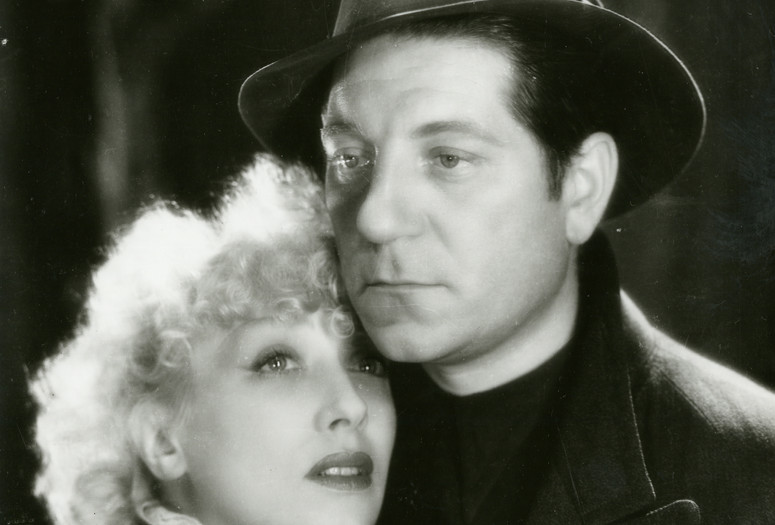 Les Bas-Fonds (The Lower Depths). 1936. France. Directed by Jean Renoir. Screenplay by Renoir, Charles Spaak, Yevgeny Zamyatin, Jacques Companéez. With Jean Gabin, Suzy Prim, Louis Jouvet, Jany Holt. 4K digital restoration by Gaumont at L'Image Retrouvée (Paris), Éclair Classics and Le diapason laboratories from an intermediate positive print preserved at the Archives françaises du film. With the support of CNC – Centre national du cinéma et de l'image animée. Courtesy Janus Films. North American premiere. In French; English subtitles. 93 min.
"After the collaborative La Vie est à nous and the then-unfinished Partie de campagne, this adaptation of Gorky's 1902 play The Lower Depths (Na Dnié) was the third film Renoir directed during the annus mirabilis 1936, an assignment from the Russian émigré producer Kamenka. He did not use the script (which appears to be lost) written by the recently emigrated novelist Yevgeny Zamyatin, and chose not to be specific about the Russian setting. 'How can we accept Jouvet as a high tsarist official,' André Bazin later wrote, 'or believe that Gabin's Parisian banter displays the 'restlessness of the Russian soul'? Or take the banks of the Marne for those of the Volga? But it is just that which Renoir has the impudence to ask.'
"As an ensemble play, Renoir's Les Bas-fonds turned out to be an early instance of his Petit Théâtre, in which players are pushed to the limit of their talent, acting as if the instruments of their orchestra had not been tuned: the great Le Vigan, genius and madman, playing an alcoholic and suicidal "actor" who revels in the sound of words like "organisme" or "sicambre"; the cosmopolitan, Stanislavsky-trained Vladimir Sokoloff; the typically French comedian Gabriello; some members of the leftwing Groupe Octobre and of Renoir's own stock company, like the acrobatic Maurice Baquet…. [But] the miracle of Les Bas-fonds arises from the first of his four meetings with Jean Gabin and two with Louis Jouvet, whom he enfolds in a choreography of camera movements, and the friendly clash of these two characters dearest to his heart: the outlaw and the aristocrat.
"In spite of its contemporary success (it was awarded the first Prix Louis-Delluc), Les Bas-fonds is anything but a 'classical' masterpiece and has persistently been undervalued. Perhaps Renoir's nonchalant contempt for all dramatic rules and conventions was—for once—not in advance of, but in tune with its time: year one (and only—or almost) of the Front populaire" (Bernard Eisenschitz).