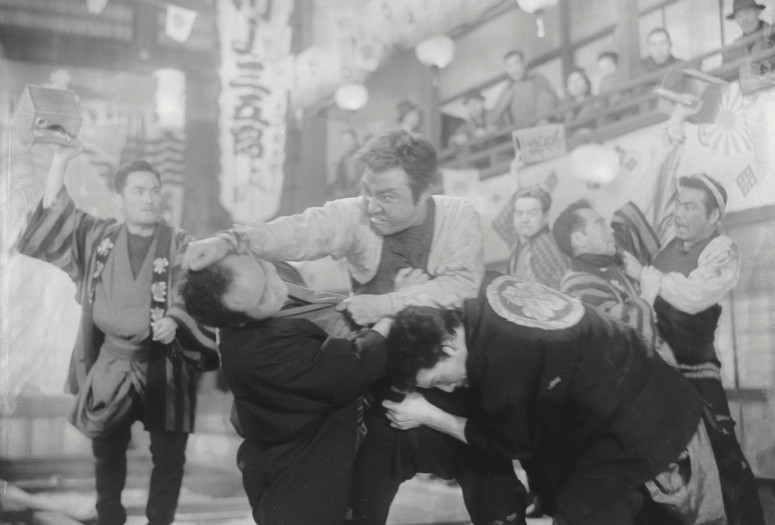 Muhōmatsu no isshō (The Rickshaw Man). 1943. Japan. Directed by Hiroshi Inagaki. Screenplay by Mansaku Itami. With Tsumasaburo Bando, Ryunosuke Tsukigata, Keiko Sonoi. 4K digital restoration by KADOKAWA Corporation and The Film Foundation at Cineric in New York and Lisbon, with the cooperation of The Kyoto Film Archive. Special thanks to Masahiro Miyajima and Martin Scorsese for their consultation. North American premiere. In Japanese; English subtitles. 80 min.
MoMA presents the North American restoration premiere of this seldom-seen gem, about a crude but honest rickshaw man who falls in love with an army captain's widow. A highlight of cinematographer Kazuo Miyagawa's early career, the film culminates in a virtuoso extended sequence in which 46 individual shots are superimposed, without an optical printer or a light meter, to create a sublime, dreamlike montage.
Wheels of Fate: The Story of the Rickshaw Man. 2020. USA. Directed by Ema Ryan Yamazaki. Courtesy Cineric Creative and Kadokawa. North American premiere. In Japanese, English; English subtitles. 19 min.
Despite severe censorship cuts by both the wartime Japanese government and postwar US occupation forces, the original 1943 version of The Rickshaw Man survives as a masterpiece of humanist cinema from a dark time in spite of the lost footage. Masahiro Miyajima, for many years the devoted camera assistant of the legendary cinematographer Kazuo Miyagawa, declared that he would restore The Rickshaw Man even if it were his last act on earth—and that was before the coronavirus. Wheels of Fate follows Miyajima's quest while also recounting the film's fateful history through interviews, archival material, and animation.