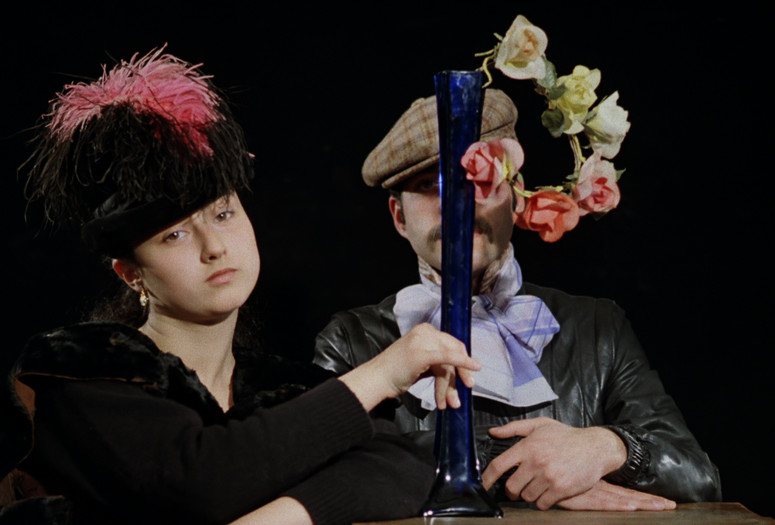 Hakob Hovnatanyan. 1967. Armenia. Directed by Sergei Parajanov. Courtesy the National Cinema Centre of Armenia (Yerevan).
Kyiv Frescoes. 1966. Ukraine. Directed by Sergei Parajanov. Courtesy Dovzhenko Centre (Kyiv).
Arabesques on the Pirosmani Theme. 1985. Georgia. Directed by Sergei Parajanov. Courtesy Georgian Film Studio/Mematiane (Tbilisi).
4K digital restorations financed and produced by Fixafilm (Warsaw) within the framework of the Hamo Bek-Nazarov Project (Paris), with the generous financial support of both Kino Klassika (London) and AGBU (New York), and with thanks to CPC (London).
Total running time: 48 min. In Russian, with English subtitles.
One of cinema's true visionaries, the Armenian filmmaker Sergei Parajanov (1924–1990) was also the very embodiment of the 20th-century artist who defied and suffered terribly from Soviet totalitarianism. Imprisoned three times, blacklisted, and censored for his outspoken defense of Ukrainian dissidents and nationalists and his pride in his own ancestry—he was born only one year after the end of the Armenian genocide—Parajanov is best known for Shadows of Forgotten Ancestors (1965), which preserves and celebrates the Ukrainian Hustul culture that had been under threat only a decade before by the homogenizing forces of socialist realism; and The Color of Pomegranates (1969), a portrait of the life of the 19th-century Armenian poet and troubadour Sayat-Nova as a series of iconic tableaux. These three newly restored Parajanov shorts comprise a kind of triptych: Kyiv Frescoes (1966), a collage piece, long suppressed by Soviet authorities, that Parajanov had assembled from camera tests for an unmade film about the aftermath of World War II in contemporary Kiev; Hakob Hovnatanyan (1967), which anticipates The Color of Pomegranates in its montage of portrait paintings by the artist known as the "Raphael of Tiflis" and its complex score by the sound engineer Yuri Sayadyan, which mixes silence with musique concrète; and Arabesques on the Pirosmani Theme (1985), another of his portraits of painters, the Georgian outsider artist Niko Pirosmani. As historian Daniel Bird notes, "like Hakob Hovnatanyan, Pirosmani's livelihood is eclipsed by the emerging technology of photography. Both films are not, however, just a mournful lament for a dying painting genre, but a reverie and fantasy of old, pre-revolutionary Tiflis."
Un petit monastère en Toscane (A Little Monastery in Tuscany). 1988. France. Directed by Otar Iosseliani. 4K digital restoration by Pastorale Productions with funding by Vadim Moshkovich; courtesy Les Films du Losange. North American premiere. In Italian, French, Latin; no subtitles needed. 56 min.
The Georgian-born Iosseliani brings his reverence for ritual and the rhythms of the seasons to this portrait in miniature of the Augustinian monks of a small Tuscan monastery, their lives cloaked in the holy mysteries of prayer, silence, and liturgical song, and the nearby villagers of Montalcino, near Siena, preoccupied with the more mundane concerns of commerce and class distinction. "Parallel worlds," the documentarian Sergei Loznitsa has observed, "but at the same time one cannot help thinking that one of these worlds is somehow safeguarding the other."