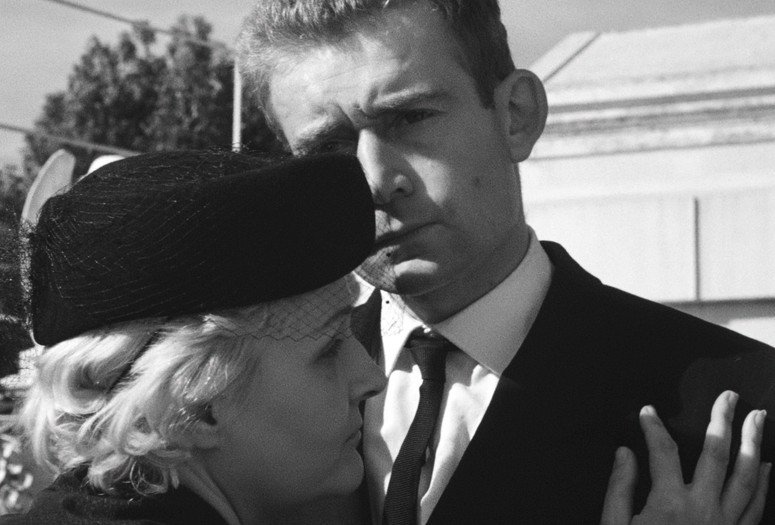 Les Oliviers de la Justice (The Olive Trees of Justice). 1962. France. Directed by James Blue. Screenplay by Jean Pélégri, Sylvain Dhomme, Blue. With Pierre Prothon, Jean Pélégri, Marie Decaître, Said Achaibou. 4K digital restoration by L'Atelier d'Images in collaboration with Marina Girard-Muttelet and John Ptak, with the assistance of Thierry Derocles and the James and Richard Blue Foundation. Financial support was provided by James Ivory, Barry Strongin, numerous individual donors, The National Film Preservation Foundation, The Film Foundation, and the CNC – Centre national du cinéma et de l'image animée. Courtesy Kino Lorber. North American premiere. In French; English subtitles. 81 min.
A 30-year-old French man, who was born and raised in Algeria but studied and made his home in France, returns to Algiers during the war of independence to visit his dying father. As he recalls his childhood years in the Mitidja plain, Jean is empathetic both toward the native Muslim people who are now suffering from the consequences of colonization and the French settlers whose ancestors cultivated a land they are now being forced to leave. Filmed on location with an Algerian crew by the American-born James Blue (1930–1980), The Olive Trees of Justice is based on a novel by Jean Pelegri (the lead actor in Robert Bresson's Pickpocket), who also plays the protagonist's father, a once-prosperous, kind, yet paternalistic pied-noir farmer. Blue remembered that "as we shot the film's interiors in my own apartment in Bab-el-Oued, machine-gun fire would break out in the street outside. Or bomb explosions. Or people screaming. And it would be right there on the sound track." The film will soon have a theatrical release in New York.
Algérie, année zéro (Algeria Year Zero). 1962. France/Algeria. Directed by Marceline Loridan-Ivens, Jean-Pierre Sergent. Narrated by Maurice Garrel. 2K digital preservation by the CNC – Centre national du cinéma et de l'image animée. Courtesy CAPI Films/Tamasa. North American premiere. In French and Arabic; English subtitles. 34 min.
Marceline Loridan-Ivens and Jean-Pierre Sergent, who collaborated with the great Dutch documentarian Joris Ivens, made remarkable films in their own right, including this crucial dispatch from war-ravaged Algeria just months after it achieved independence from France. Banned in both countries, Algeria Year Zero exposed audiences to the "horror, lies and absurdity" of the violent conflict (as cameraman Bruno Muel described it), and in particular abuses by the French paramilitary OAS.