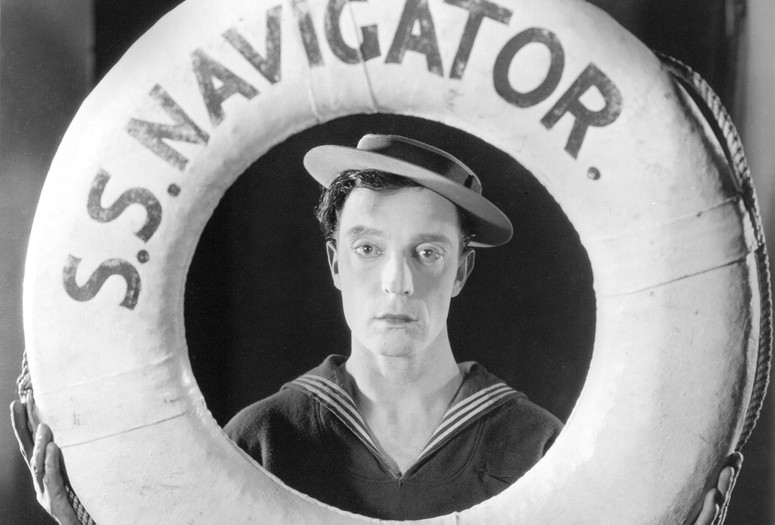 Proof of vaccination is required for on-site film screenings. Learn more about visiting us safely.
The Navigator. 1924. USA. Directed by Buster Keaton, Donald Crisp. Screenplay by Clyde Bruckman, Joseph A. Mitchell, Jean C. Havez. With Buster Keaton, Kathryn McGuire, Frederick Vroom. 4K digital restoration by The Museum of Modern Art and Lobster Films. Funding provided by The Celeste Bartos Fund for Film Preservation and Lobster Films. Lab work by Lobster Films. World premiere. Silent; with a new original score by Antonio Coppola. 69 min.
To Save and Project presents the world premiere of Buster Keaton and Donald Crisp's The Navigator (1924) in a new 4K digital restoration by MoMA and Lobster Films. Derived from the world's oldest and best surviving 35mm print, which curator Iris Barry acquired for MoMA's collection in the 1940s, and from continuity scripts used to recreate the film's original tinting, The Navigator will be experienced anew by passionate Keaton devotées and newcomers alike. In a series of surreal, graceful, hilarious—and risky—gags unmatched in the history of cinema, rich and pampered nitwit Buster Keaton finds himself lost at sea with his would-be bride Kathryn McGuire, parrying with feisty swordfish, bloodthirsty cannibals, and the mother of all machine props: a vast deserted ocean liner.