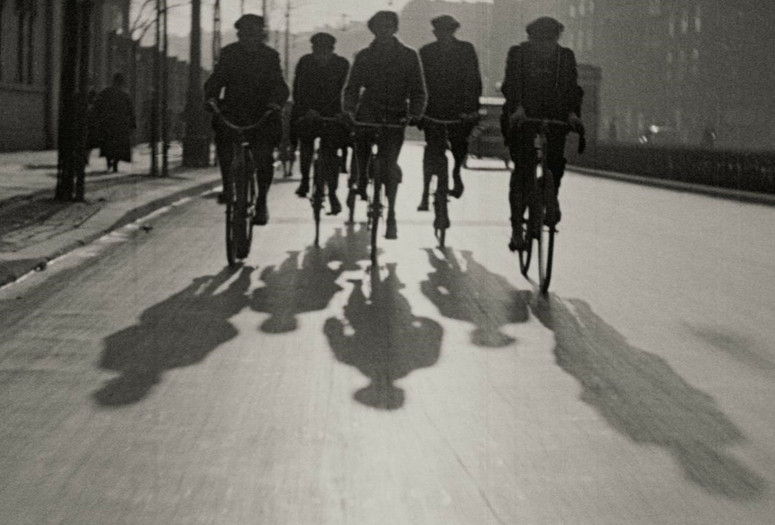 Europa. 1931. Poland. Directed by Stefan Themerson, Franciszka Themerson. 4K digital restoration by Fixafilm Warsaw with a new score by Lodewijk Muns; courtesy LUX and the Themerson Estate. Special thanks to the Polish Cultural Institute. North American premiere. Silent; English intertitles. 12 min.
The sole surviving copy of Franciszka and Stefan Themerson's anti-fascist avant-garde film Europa was destroyed by the Nazis in wartime Paris...or so we've believed for the past 80 years. After its dramatically tortuous journey through the Cold War, a copy of the film was recently unearthed in the German Bundesarchiv thanks to the tenacious efforts of the Themerson family, and here makes its North American premiere in a fierce and almost heartbreaking restoration. The film is considered a holy grail of Polish experimental cinema, a cry against all forms of barbarism and exploitation in which the Themersons, before their flight from Warsaw in 1938, breathed life into Anatol Stern's 1925 futurist poem of the same name through an arsenal of experimental techniques, including percussive montage, X-rays and collage, underwater photography, and Constructivist typography.
Arbeitslos. Ein Schicksal Von Millionen (Unemployed: The Destiny of Millions). 1933. Germany. Written and directed by Willy Zielke. With Beppo Brem. 4K digital reconstruction of the original version courtesy the Munich Filmmuseum. North American premiere. In German; English subtitles. 21 min.
Willy Zielke was a brilliant photographer and filmmaker from Łodź who suffered greatly at the hands of the Nazis: His German feature films of the 1930s, Arbeitslos and Das Stahltier, were banned; Leni Riefenstahl made use of him to conceive, direct, and shoot the prologue for Olympia, but gave him no credit; and later, in a mentally incapacitated state, he was confined to an insane asylum where he was forcibly sterilized, only to be released after five years in 1942 so that Riefenstahl could make use of him once again on the final shooting of Tiefland. Zielke's 1933 film Arbeitslos, commissioned by a Maffei railway company unemployment shelter, presented a despairing portrait of a nation in near-total collapse. Under pressure from the Nazis, Zielke was forced to rewrite and re-edit the film under a new title, The Truth, transforming it into a work of propaganda promising the liberation of Germany through National Socialism. The Munich Filmmuseum's recent reconstruction of Arbeitslos, presented in this North American premiere, is the closest approximation we have to Zielke's original version. (Roughly five minutes are still missing, though no documentation survives to suggest what they might have depicted.) After the war, Zielke worked again as a cinematographer on industrial films and made several prize-winning shorts. Two of his assistants, Edgar Reitz and Ronald Martini, went on to become founders of the New German Cinema.
Kuhle Wampe oder Wem gehört die Welt? (Kuhle Wampe, or Who Owns the World?). 1932. Germany. Directed by Slatan Dudow. Screenplay by Bertolt Brecht, Ernst Ottwald. With Hertha Thiele, Ernst Busch, Martha Wolter. 2K digital restoration by the Deutsche Kinemathek; courtesy Praesens-Film AG. North American premiere. In German; English subtitles. 74 min.
Bertolt Brecht played an instrumental role in realizing this rediscovered masterpiece of German proletariat cinema, collaborating with the Bulgarian-born Weimar theater and film director Slatan Dudow; composer Hanns Eisler; writer Ernst Ottwalt; actress Herta Thiele, the star of Mädchen in Uniform; and actor Ernst Busch, the great interpreter of workers' songs who also led Brecht's original stage productions of Threepenny Opera and Galileo. Filmed in 1932 as the nation teetered on the razor's edge between communism and fascism, Kuhle Wampe was quickly banned by the Nazis for its portrayals of suicide, homelessness, unemployment, price gouging, and government corruption. Historian Peter Von Bagh describes the film, whose title can be loosely translated as Empty Stomach, as a "splendid amalgamation of documentary, fiction and collage….The subway scene, which centers on international news about coffee crops being burned, presents a splendid typology (class society through faces) of diverging opinions, illusions, relative truths, mutual misunderstandings, and ways to see the world: honest, dishonest, absurd. There is not the slightest trace of filmed theater."