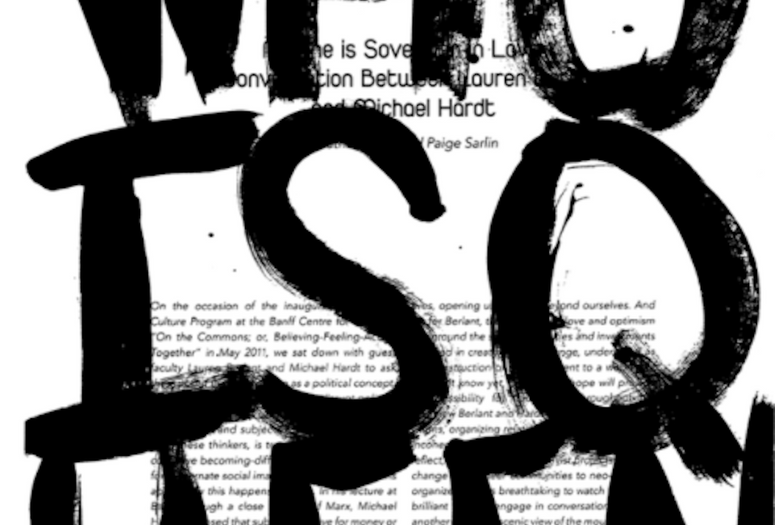 "You make the book, but then you don't dictate how someone else reads it." –Adam Pendleton
Read and discuss short excerpts of critical texts in this participatory reading group facilitated by writers and scholars Che Gossett and Jules Gill-Peterson. Inspired by Adam Pendleton's idea of "poetic research," these readings invite you to ask new questions and collectively consider the conditions necessary for joy, love, political action, and art making. The texts for this series are drawn from Pendleton's research for his exhibition Who Is Queen?
This session will focus on a 2011 interview between cultural theorist Lauren Berlant and political philosopher Michael Hardt titled "No One Is Sovereign in Love."
No prior preparation or background is necessary to participate. We will read texts together during the session. This program is free, open to all, and takes place over Zoom meeting. Registration is required and limited.
There are two more programs in this series, on January 12 and January 25, and you are welcome to register for any or all.
Che Gossett is a writer and archivist, and is currently the Racial Justice Postdoctoral Fellow at the Center for Contemporary Critical Thought and the Law School at Columbia University. They are finishing a biography of queer Japanese AIDS activist Kiyoshi Kuromiya.
Jules Gill-Peterson is associate professor of history at Johns Hopkins University. She is the author of Histories of the Transgender Child, the first book to shatter the widespread myth that transgender children are a brand new generation in the 21st century. The book received a Lambda Literary Award and the Children's Literature Association Book Award. Jules is also a general co-editor of TSQ: Transgender Studies Quarterly. She is currently at work on a book project titled Gender Underground: A History of Trans DIY, which reframes the trans 20th century not through institutional medicine, but through the myriad do-it-yourself practices of trans people that forged parallel medical and social worlds of transition.
Accessibility


This program will have live CART captioning. American Sign Language (ASL) interpretation is available for public programs upon request with two weeks' advance notice. MoMA will make every effort to provide accommodation for requests made with less than two weeks' notice. For accessibility questions or accommodation requests please email [email protected] or call (212) 708-9781.




Volkswagen of America is proud to be MoMA's lead partner of education.

Generous support for Adult and Academic Programs is provided by the Agnes Gund Education Endowment Fund for Public Programs, The Junior Associates of The Museum of Modern Art Endowment for Educational Programs, and the Jeanne Thayer Young Scholars Fund. Additional support is provided by the Annual Education Fund.