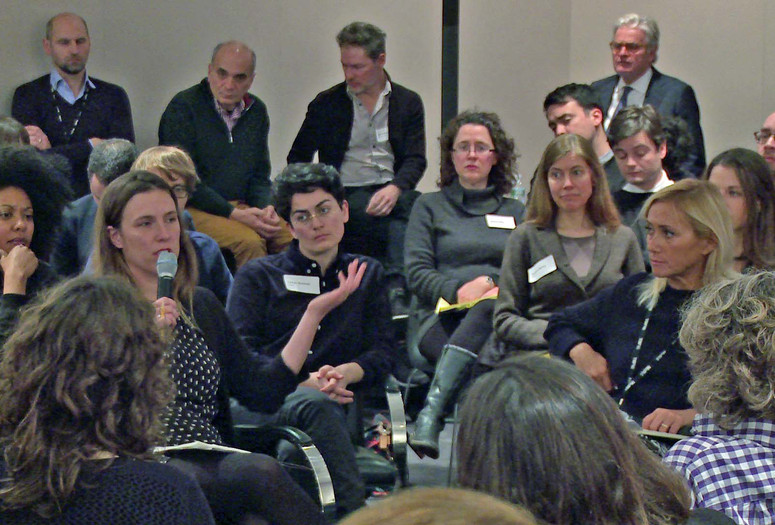 For the upcoming session we have invited Barbara Clausen, curator and Professor, Performance Theory and History, University of Québec; Lucy Gallun, Assistant Curator, Department of Photography, MoMA; artists Sharon Hayes, Liz Magic Laser, and Jill Magid; and Melanie Kress, High Line Art Curatorial Fellow, to lead a discussion about the relationship between photography and performance on the occasion of the exhibitions Art on Camera: Photographs by Shunk–Kender, 1960–1971 (May 17–October 4, 2015, at The Museum of Modern Art) and Pier 54 (November 6–December 13, 2014, organized by High Line Art at 120 Eleventh Avenue). These exhibitions present, in the first instance, photographs of conceptual art, actions, instructions, and happenings from the 1960s and early 1970s, with an emphasis on the historic Pier 18 project; and in the second, photographs of contemporary art and actions enacted in 2014 on Pier 54.
Pier 18 consisted of a series of ephemeral artworks organized by independent curator, activist, and publisher Willoughby Sharp and executed by 27 (all male) artists at a derelict Hudson River pier in New York in February/March 1971. The photographs were exhibited at MoMA later that year as Projects: Pier 18 (June 18–August 2, 1971). Pier 54 was recently conceived as a tribute to and a reaction against Pier 18. Pier 54 likewise took place on a derelict pier, for which the High Line Art invited 27 contemporary artists—all women—to realize projects that respond to the location and engage with the changing landscape of the West Side waterfront. Pier 54 exists as a series of documentations in photographs by Liz Ligon.
Some of the questions we will ask include: In what ways does photography impact the field of performance? When performance is staged for the camera, how does this shift the exchange between artists and audiences? Where does the value of performativity lie? Is the reenactment of a landmark exhibition a critical exercise in historical revisionism? Can reenactments fuel aesthetic and political changes? What does it mean to extend the agency of the 1960s and 1970s actions to engage issues of gender, race, and culture today? This session will examine the ways in which expanded ideas about performance and photography resonate into the 21st century.
This event is invitation only, but we are very pleased to present a live stream of the forum, which will allow remote friends and colleagues to participate in the conversation.
Pier 18 participants: Vito Acconci, David Askevold, John Baldessari, Robert Barry, Bill Beckley, Mel Bochner, Daniel Buren, Jan Dibbets, Terry Fox, Dan Graham, Douglas Huebler, Lee Jaffe, Richards Jarden, Gordon Matta-Clark, Mario Merz, Robert Morris, Dennis Oppenheim, Allen Rupersberg, Italo Scanga, Richard Serra, Michael Snow, Keith Sonnier, Wolfgang Stoerchle, George Trakas, John Van Saun, William Wegman, Lawrence Weiner.
Pier 54 participants: Leonor Antunes, Rosa Barba, Francisca Benitez, Carol Bove, N. Dash, Liz Glynn, Sharon Hayes, Iman Issa, Margaret Lee, Maria Loboda, Marie Lorenz, Shana Lutker, Liz Magic Laser, Jill Magid, MPA, Virginia Overton, Leah Raintree, Emily Roysdon, LaToya Ruby Frazier, Aki Sasamoto, Xaviera Simmons, Mika Tajima, Andra Ursuta, Sara VanDerBeek, Allyson Vieira, Marianne Vitale, and Anicka Yi.
Cofounded by curators Roxana Marcoci and Eva Respini on February 16, 2010, and conceived as an experimental platform for free-form critical discussions, MoMA's forums on contemporary photography are designed to encourage debate about the perspectives and scope of still and moving images and other forms of picture-making among leading artists, curators, and theorists in the field. The creative process of today is not solitary but dynamic, evolving from countless partnerships. These forums offer an intellectual milieu that values the scholarly reassessment of pivotal ideas in art, innovative practices, and complex and competing visions of modern and contemporary art.
Roxana Marcoci, Senior Curator, Department of Photography, begins each session with an introduction to the topic, providing context for the conversation. Four to seven featured speakers then present for five to 10 minutes each. The presentations are followed by a probing, critical Q&A session and a moderated discussion with all the guests.
Read an article about the Forums from Art in America.
Organized by Roxana Marcoci, Senior Curator, and Eva Respini, Curator, Department of Photography, MoMA
Speakers: Barbara Clausen, Curator and Professor for Performance Theory and
History, University of Québec
Lucy Gallun, Assistant Curator, Department of Photography, MoMA
Sharon Hayes, artist
Melanie Kress, High Line Art Curatorial Fellow
Liz Magic Laser, artist
Jill Magid, artist