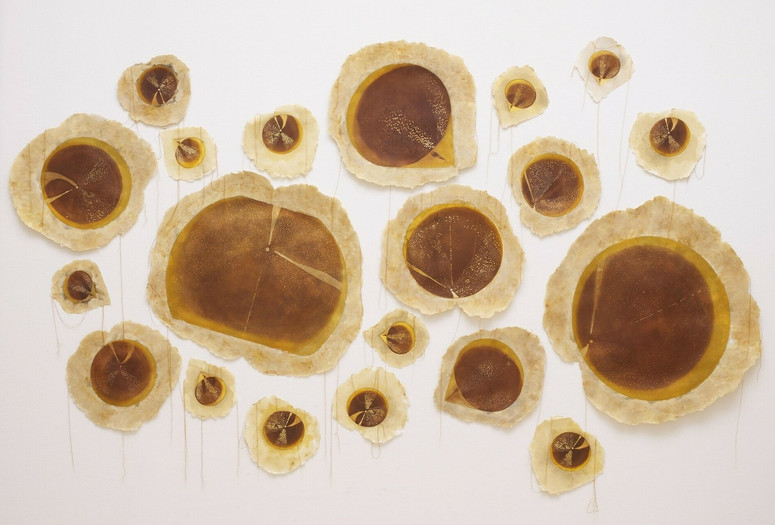 Queer Art Chats are a chance to build community among people invested in queer and trans perspectives, art, and liberation. No specialized understanding of art, art history, or queer theory is required; our own experiences and perspectives will form the basis for participation. In each session, participants will work with facilitators and each other to collectively generate ideas about queerness and transness.
Queer Art Chat on Materials and Bodies will explore artworks that invoke the idea of bodies using assemblages of organic materials without depicting figures. Together, we will investigate how abstracted forms can gesture to lived, embodied experiences.
Isa Saldaña writes and performs, with attention to how blackness, indigeneity, earth, and intimacy exist in relationship with one another. They are an Editor of &, a space for experimental feminist theory-making and artistic practice in Women & Performance, a journal of feminist theory.
Amber Hunnicutt is an educator and facilitator whose practice centers Black and queer liberation.
The December 7 Queer Art Chat is full. If you would like to be on the waitlist for the December 7 program, email [email protected].
Please register for the December 14 Queer Art Chat.
Accessibility
This session will have live CART captioning. A PDF of the presentation is available upon request. American Sign Language (ASL) interpretation is available with two weeks' advance notice, contingent on service provider availability. For more information on accessibility at MoMA please visit moma.org/access. For accessibility questions or accommodation requests please email [email protected] or call (212) 708-9781.
This session will be led virtually through Zoom, a free video-conferencing software. Participants are encouraged to use a computer, smart phone, or tablet with a camera and Internet access, if possible. Participants may also dial in using a phone line. Participants will receive a Zoom link upon registering.




Volkswagen of America is proud to be MoMA's lead partner of education.

Generous support for Adult and Academic Programs is provided by the Agnes Gund Education Endowment Fund for Public Programs, The Junior Associates of The Museum of Modern Art Endowment for Educational Programs, and the Jeanne Thayer Young Scholars Fund. Additional support is provided by the Annual Education Fund.