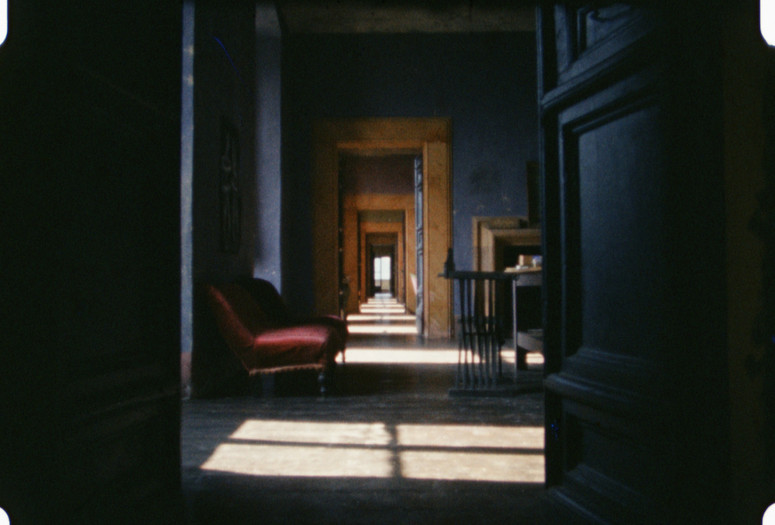 Bliss. 1967. Greece. Filmmaker Gregory Markopoulos. Dedicated to Alice Burkhard. Filmed in the Church of St. John, Hydra, Greece. 16mm. 6 min.
Gammelion. 1967. Italy. Filmmaker Gregory Markopoulos. Dedicated to Gregg Sharits. Text excerpt from Rainer Maria Rilke's Die Aufzeichnungen des Malte Laurids Brigge (The Notebooks of Malte Laurids Brigge) read forwards and backwards. Music by Albert Roussel: excerpt from Serenade. Filmed at Il Castello Roccasinibalda, Province of Rieti, Italy. Restored and preserved by Oesterreichishces Filmmuseum, Vienna. 16mm. 55 min.
Anticipation, Intermittency and interruption, allowing the felt absence of image is key to the power of cinema. Markopoulos composed with the black space intervals separating each images from a immediate successive flow and adjacency. Giving each frame a stellar quality where the images emanate more radiantly in the "deeper night sky" of the screen and mind while our watchful eyes await the dawn of each new image.
In Gammelion the pulsation of the projector beam the rays of the sun and our own "developing bath of the unconscious" meets the exquisite shaping of rhythm and image enunciation, irregular cadences and thousands of tactile fades. Markopoulos creates a work that can be held in suspended time in our receptivity as "moments in eternity."
Program run time: 61 min.