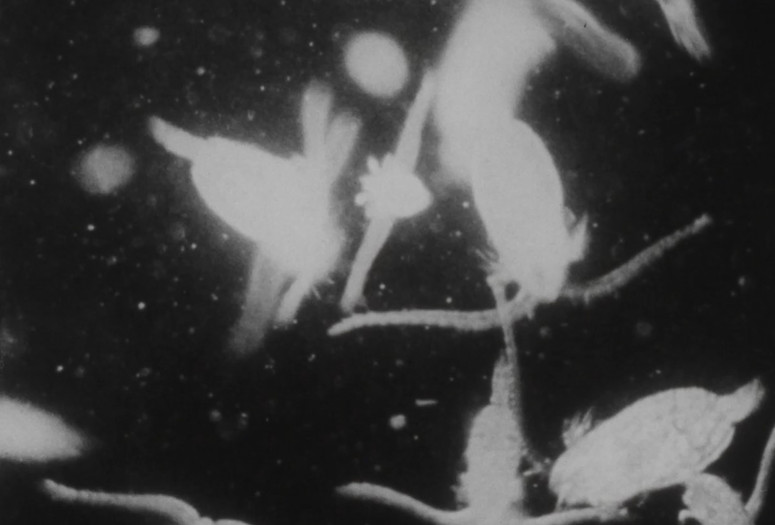 Reflections 1955. Directed by Madeline Tourtelot. Music by Ed Bland. "Fern, leaf and tree: a film poem notable for its striking photography." Courtesy The Chicago Film Archives and Madeline Tourtelot Library and Archives at Peninsula School of Art. 5 min.
Den dröma dalen (A Tale of the Fjords/Valley of Dreams). 1947. Sweden. Directed by Årne Sucksdorff. "A lyrical visualization of a child's fantasy, beautifully photographed in the Vestland fjord region of Norway by one of the most distinguished directors of our time" (Arthur Knight). Courtesy the Swedish Film Institute. In Swedish. 12 min. Please note there are no English subtitles available for this film.
The World Within the Sea. 1956. USA. Directed by Roman Vishniac. " The world-famous photographer captures by unprecedented cine-microscopic techniques fantastic images never before seen by man. 'Breathtakingly beautiful!'— The New York Times." Courtesy the University of South Carolina. 6 min.
Symptoms in Schizophrenia. 1938, Directed by James D. Page. "An authentic study of schizophrenic patients and their symptoms, such as delusions, apathy, rigidity and echopraxia." Courtesy the National Library of Medicine. 12 min.
The Thinking Machine. 1961. USA. Directed by René Bras, Nicholas Webster. "Screen actor David Wayne chats with MIT Professor Jerome Wiesner on developments in computer research and artificial intelligence, as part of the 'Tomorrow' television series produced by CBS for MIT on occasion of MIT's Centennial in 1961. The program features the TX-O digital computer, an instrument that for the first time is enabling scientists to explore new frontiers of the human mind by showing what machines do that looks like 'thinking.' We see how a computer can generate a Western story script, watch experiments in mind and computer research with children and animals, and hear a range of scientists, including Claude Shannon, Jerome Y. Lettvin, Douglas T. Ross, Ronald Melzach, Arthur L. Samuel and Barbel Inhelder state their convictions about the future role of computers in society" (MIT program note). Courtesy MIT Museum. 53 min.
Program 89 min.