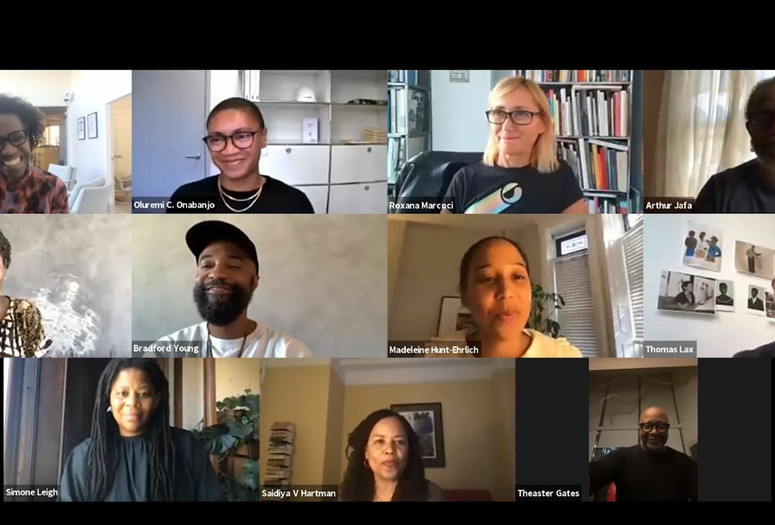 This event is a celebration of Tina M. Campt's new book A Black Gaze: Artists Changing How We See (2021), and of contemporary artists' attempts to shift how we interact with visual culture by reclaiming discomfort, refusal, and the work of feeling alongside one another.
Speakers:
Tina M. Campt, Owen F. Walker Professor of Humanities and Modern Culture and Media, Brown University
Theaster Gates, artist, and Professor, Department of Visual Arts, University of Chicago
Thelma Golden, Director and Chief Curator, The Studio Museum in Harlem
Saidiya V Hartman, University Professor, Columbia University
Madeleine Hunt-Ehrlich, filmmaker, and Assistant Professor in Film and Television production, Queens College, CUNY
Arthur Jafa, artist, filmmaker and cinematographer
Simone Leigh, artist
Okwui Okpokwasili, writer, performer, and choreographer
Oluremi C. Onabanjo, Associate Curator, Department of Photography, MoMA
Bradford Young, cinematographer
MoMA members are welcome to attend. For information, please contact [email protected].
This Forum on Contemporary Photography is co-organized by Thomas J. Lax, Curator, Department of Media and Performance, and Roxana Marcoci, Senior Curator, Department of Photography, MoMA.
Special thanks for this Forum to The Studio Museum in Harlem.

The Forums on Contemporary Photography are made possible through the generous support of the Joseph M. Cohen Family Collection.