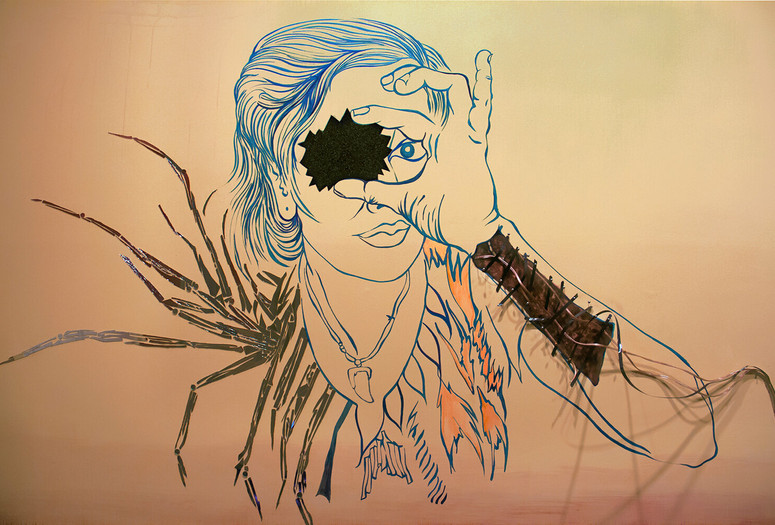 Art and Practice is a series of programs that bring together emerging and experienced artists to explore the challenges and possibilities of sustaining a creative life.
Chitra Ganesh invites emerging artists to join her in exploring "shadow narratives," histories that have been excluded or erased from the dominant culture. Each participant will be encouraged to bring something with them that they are thinking about in their own work. It could be an object—like a textile, piece of bark, or archival photograph—or a song, text, video clip, etc. The group will share and discuss these materials and use writing and drawing exercises to question and imagine their histories. There will be time to connect with each other in an intimate, online environment.
This program is for anyone who identifies as an artist and will take place over Zoom. This program is free, but an application form is required. To keep the conversation intimate, registration is limited and applications will be accepted on a rolling basis. For more information, please contact [email protected].
Chitra Ganesh is a Brooklyn-based visual artist whose work encompasses drawing, painting, comics, wall installations, video art, and more. Through studies in literature, semiotics, social theory, science fiction, and historical and mythic texts, Ganesh attempts to reconcile representations of femininity, sexuality, and power absent from the artistic and literary canons.
Accessibility
Automated captioning is available for all online programs. American Sign Language (ASL) interpretation and live captioning is available for public programs upon request with two weeks' advance notice. MoMA will make every effort to provide accommodation for requests made with less than two weeks' notice. For accessibility questions or accommodation requests please email [email protected] or call (212) 708-9781.




Volkswagen of America is proud to be MoMA's lead partner of education.

Generous support for Adult and Academic Programs is provided by the Agnes Gund Education Endowment Fund for Public Programs, The Junior Associates of The Museum of Modern Art Endowment for Educational Programs, and the Jeanne Thayer Young Scholars Fund. Additional support is provided by the Annual Education Fund.