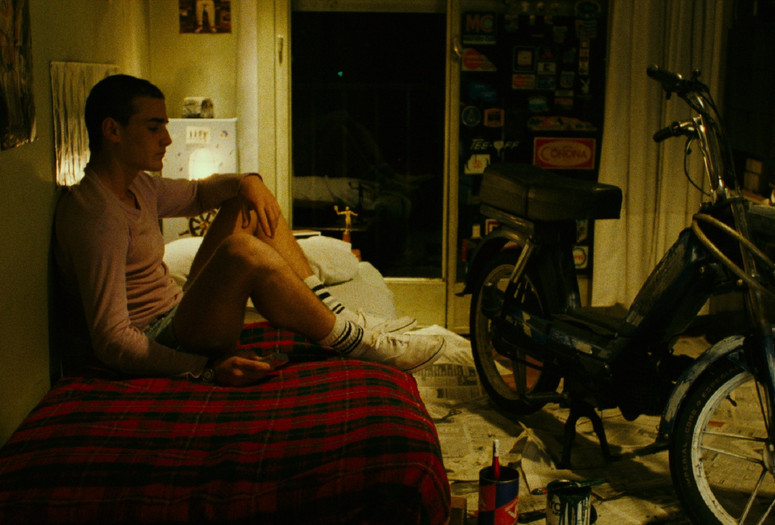 Virtual Cinema screenings are available exclusively to MoMA members. Not a member? Join today and start streaming.
Rapado. 1992. Argentina. Written and directed by Martín Rejtman. With Ezequiel Cavia, Mirta Busnelli, Damián Dreizik. In Spanish; English subtitles. 75 min.
A pioneering figure in the New Argentine Cinema of the early 1990s, Martín Rejtman achieved a cult following with his debut film Rapado —the droll portrait of a world-weary teenager who roams Buenos Aires in search of his stolen motorbike—even before Lucrecia Martel, Pablo Trapero, and Lisandro Alonso arrived on the scene. With its favoring of comic haplessness and happenstance over overwrought and overwritten melodrama (think Howard Hawks rather than Stanley Kramer), Rapado both saved Latin American cinema from its worst excesses and helped define the devil-may-care attitude of Cinema Tropical's earliest years. "You could draw comparisons to Jim Jarmusch's ironic detachment or the spare precision of the Taiwanese New Wave that Rejtman usually cites as an inspiration. But if Rapado feels more familiar than when it first appeared, that's perhaps due to the indie films that came out over the rest of the decade" (Quintín, Film Comment).
Virtual Cinema is not available to Annual Pass members. With the exception of Modern Mondays programs, Virtual Cinema screenings are not available outside the US.