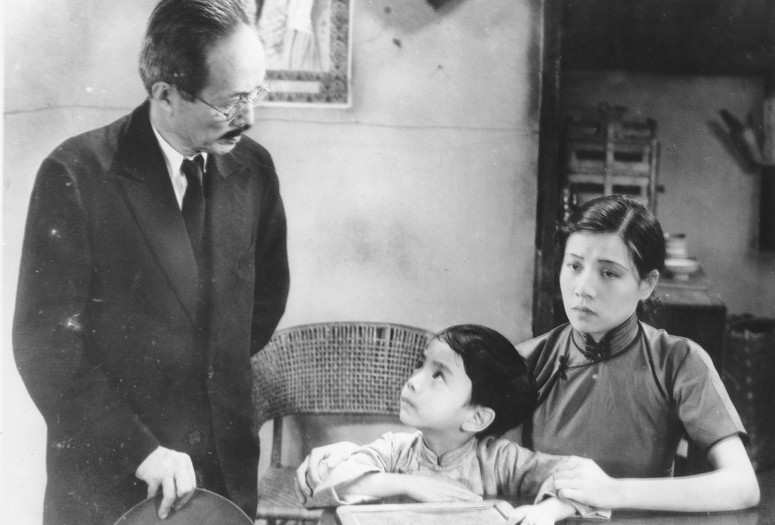 In the event of rain, this screening will take place on August 13.
The Goddess. 1934. China. Directed by Wu Yonggang. With Ruan Lingyu. Silent with live musical accompaniment by Min Xiao-Fen and Rez Abbasi. Chinese intertitles with English subtitles. 82 min.
This heart-wrenching tale, about a single mother who raises a young child while working as a prostitute, is a masterpiece of Chinese cinema's silent era. Wu Yonggang's juxtaposition of Shanghai's glitzy, Art Deco skyline with a portrait of wretched street-level existence highlights the disparities suffered by the masses during a time of foreign occupation and domestic unrest. Ruan Lingyu, an enduring star of Chinese cinema remembered for her radiant screen presence (and whose legacy is further amplified by her shocking death by suicide at the height of her career in 1935), projects melancholy and strength in the lead role. Her portrayals of resilient mothers—in this film and in other celebrated works of the period like Little Toys (1933) and New Woman (1934)—made her a symbol of 1930s womanhood and a central figure in a socially and politically progressive film movement. Digital restoration courtesy of China Film Archive.
Live music accompaniment
Min Xiao-Fen (composer) – pipa, sanxian, ruan, guqin, sound effects, voice
Rez Abbasi – acoustic and electric guitar
This screening features a live performance of an original score composed for The Goddess by multi-instrumentalist and vocalist Min Xiao-Fen. A genre-defying innovator whose primary instrument is the pipa, a Chinese lute, Min uses her classical training in the instrument as a foundation to explore new sounds, traversing the worlds of jazz, experimental, and new music. She is known for her interpretation of the music of Thelonious Monk in her album Mao, Monk and Me, and has collaborated with John Zorn, Wadada Leo Smith, and Björk, among others. Joining her is the equally versatile and adventurous guitarist Rez Abbasi, who creates dialogues between jazz and South Asian traditions. A 2021 Guggenheim Fellow, Abbasi released his original score for Franz Osten's 1929 Indian/German silent film Prapancha Pash (A Throw of Dice), a commission by the New York Guitar Festival, two years ago. The two musicians' collaboration on The Goddess was recently released on the album White Lotus.