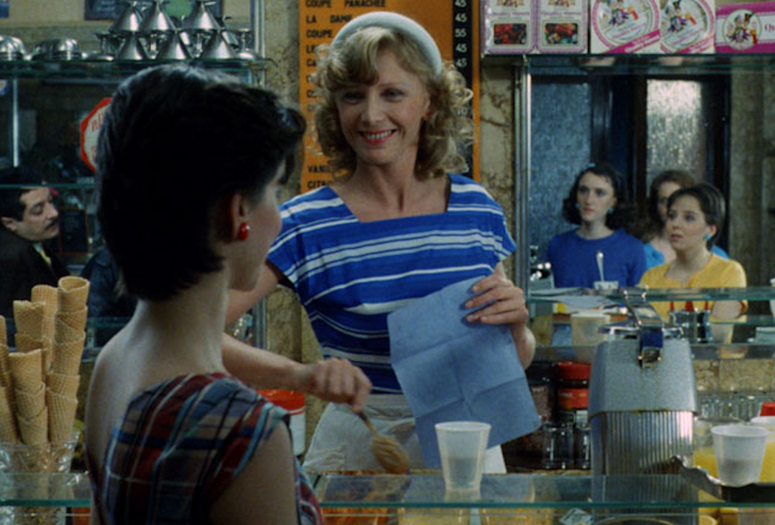 Virtual Cinema screenings are available exclusively to MoMA members. Not a member? Join today and start streaming.
Les Années 80s (The Eighties). 1983. France/Belgium. Directed by Chantal Akerman. In French; English subtitles. 82 min.
"I first encountered this film browsing VHS tapes at the Donnell Media Center (a branch of the New York Public Library that used to be across the street from MoMA before the steak house moved in). Little did I know, when I watched it in my apartment in the East Village (c. 1999), that I was watching one of the only copies of the English-subtitled version of this film in existence—and that requesting it for my Carte Blanche in 2021 would result in the first re-translation and subtitling effort since. I am ecstatic to be able to present the first online showing of this phenomenal meta-film within a meta-film, which is often confused, via its titling, with the mainstream-style musical that Akerman made using this film as a 'calling card' for fundraising. Les Anneés 80s is exactly what it sounds like, the fluffy yet depressed side of a burgeoning anarcho-corporatist-capitalism and reactionary sexism. It consists of wonderfully low-key research and development rehearsals for a soap-opera-style bad musical shot in video, with the filmmaker herself occasionally playing stand-ins (such as the lover, Robert; and a vulnerable moment of directing herself singing in the recording studio that remains one of my favorite moments in all of Akerman's films). The film ends with a fully realized musical scene shot in a shopping mall in Brussels, where the rawness of Akerman's singing voice is placed on top of a shining blond starlet who may remind some contemporary viewers of Lisa Kudrow. This is the first example of turning Brecht on his theoretical head that I can recall seeing in cinema: a fragment of a Marxist-inflected musical where a song about a lover in the New World is set in an American Diner in Brussels, sung entirely in French pop, where a heart-wrenchingly-light melancholy-style love song contains such lyrical gems as, 'Everything is huge here...millions of tons of asbestos, steel and paper pulp,' and, 'Nothing else matters. Nothing else exists. Labrador and its goldmines, the Pacific and Atlantic oceans, continents, cities, forests and people. Nothing else matters. Nothing else exists—to me.' The alienation-effect, after the 1980s, can also lead to shards of withering catharsis that we, in 2021, can totally relate to. As the first line of the film intones over and over, with a constant critique of its delivery from the director: 'At your age, the grief soon wears off'" (Ken Okiishi). Preserved by the Cinematek – Cinémathèque Royale de Belgique, courtesy Fondation Chantal Akerman
Virtual Cinema is not available to Annual Pass members. Virtual Cinema screenings are not available outside the US.