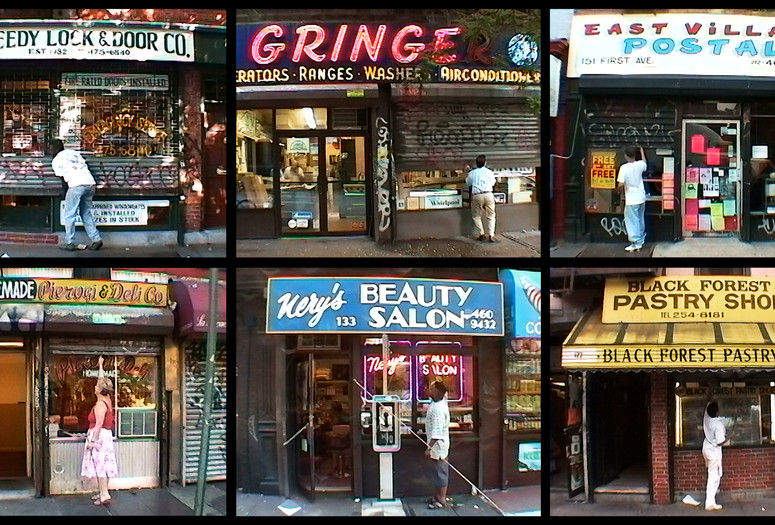 Due to predicted thunderstorms, this screening has been moved inside to Theater 1. Please note that proof of vaccination is required for indoor screenings.
This collection of short films explores city spaces, longing and connection, remembrance, and queer love.
Hallelujah Anyway, Anyway. 2021. USA. Directed by Neil Goldberg. 4 min.
New York has reemerged from catastrophe many times. In fact, every day determined New Yorkers brush off exhaustion and trauma, opening their doors to one another. In the wake of the COVID-19 pandemic, artist and filmmaker Neil Goldberg was commissioned by the New York Times Op-Docs to revisit a work of his own from a time when the AIDS epidemic was front-of-mind for many. Celebrating resilience, dedication, and our city, Hallelujah Anyway, Anyway welcomes us back.
Flushing Meadows. 1965. USA. Directed by Joseph Cornell with Larry Jordan. 8 min.
In 1962, artist Joseph Cornell met Joyce Hunter while she was waiting tables at a diner, and became deeply infatuated with her, continuing their friendship even after she was arrested for stealing a number of artworks from his Queens home. Joyce was murdered in 1964, and a year later Cornell collaborated with filmmaker Larry Jordan to create this testament to grief and remembrance. Filmed on a bright autumn day, Cornell and Jordan's film captures Joyce's gravesite, children playing, and the bright blue skies above Flushing Cemetery. The film is presented here in a new digital preservation by MoMA, with funds provided by The Joseph and Robert Cornell Memorial Foundation.
Blue Diary. 1997. USA. Directed by Jenni Olson. 6 min.
Dejected, melancholic, and pining after a one-night stand with a straight woman, Jenni Olson guides us through a lonely San Francisco with voiceover and static cityscapes, in a spiritual West Coast companion to Chantal Akerman's News from Home. Courtesy Frameline
Lessons in Semaphore. 2015. USA. Directed by Cauleen Smith. 4 min.
Captured in 16mm, a lush vacant lot in Chicago becomes a site of connection and communion between choreographer Taisha Paggett and young performer Maylk Singleton, inviting possibilities of communication and freedom. Courtesy Corbett vs. Dempsey, Chicago
Remembrance: A Portrait Study. 1967. USA. Directed by Ed Owens. 6 min.
In this striking portrait, made with genuine warmth, Ed Owens captures his mother Mildred Owens and her friends Irene Collins and Nettie Thomas. The filmmaker intercuts both glamorous and mourning portraits with scenes at the dinner table, where the women drink beers and laugh. Courtesy Filmmakers Co-op
Klaus Nomi Screen Test for Charles Ludlam. c. 1978. USA. Directed by Anders Grafstrom. 3 min.
Digitally preserved by MoMA during Club 57: Film, Performance, and Art in the East Village, 1978–1983, this single Super 8mm reel shows Nomi vamping and wig-swapping for the camera, his biting humor on full display.
Long For the City. 2008. USA. Directed by Jem Cohen. 10 min
Patti Smith, patron saint of Downtown Manhattan, walks the streets of her neighborhood with filmmaker Jem Cohen and muses on its changing landscape.