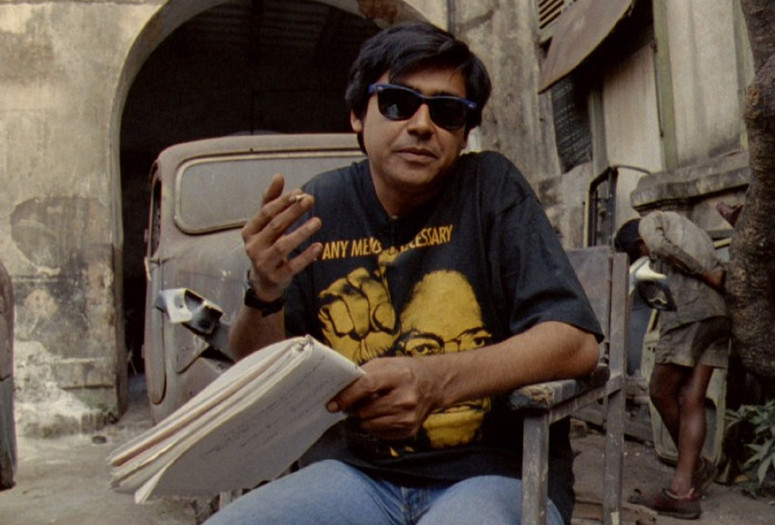 Virtual Cinema screenings are available exclusively to MoMA members. Not a member? Join today and start streaming.
Tales from Planet Kolkata. 1993. India. Directed by Ruchir Joshi. With texts by Joshi, Tony Cokes, Shakti Chattopadhyay. With Cokes, Joshi, Paritosh Sau. In Bengali, Hindi; English subtitles. 38 min.
A great work of political subterfuge and subversive humor, Tales from Planet Kolkata confronts Western cultural stereotypes of India by contrasting Hollywood images (Kolkata portrayed in City of Joy as a miserable hellhole) and the bloviations of French theoreticians with the no-bullshit teachings of Ruchir Joshi's late mentor Deepak Majuimdar, who admonished him "not to look 'down' with the camera at a poor or destitute person," and "not to regard traditional performance and crafts [such as the Patua scroll paintings seen in the film] as 'primitive.'"
Memories of Milk City. 1991. India. Directed by Ruchir Joshi. English, Bengali and Hindi; English subtitles. 14 min.
Ahmedabad in the heart of Gujarat in northwest India is a city of uncanny contradictions, where quick-dealing entrepreneurs rub elbows with street philosophers, and where children hawk ice cream from carts while cows roam freely in the shopping malls. Ahmedabad has also been the site of some of the worst violence between Hindus and Muslims in India's history. Ruchir Joshi's experimental film sketchbook draws upon the freeform "harmonica" writing of Madhu Rye, a noted Gujarati author, to peel back these layers of complexity.
Virtual Cinema is not available to Annual Pass members. Virtual Cinema screenings are not available outside the US.